Elon Musk reveals new Twitter logo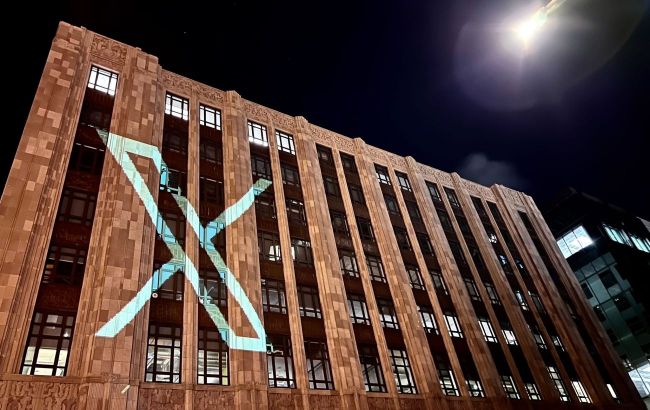 Twitter changes its logo to X (twitter.com/lindayacc)
Elon Musk and Twitter's CEO, Linda Yaccarino, unveiled the new logo for the social media platform, replacing the familiar blue bird symbol with a white "X" on a black background, Reuters reported.
"X is here! Let's do this," tweeted Yaccarino.
X is here! Let's do this. pic.twitter.com/1VqEPlLchj

— Linda Yaccarino (@lindayacc) July 24, 2023
She also posted an image of the logo, projected on the company's offices in San Francisco.
Lights. Camera. X! pic.twitter.com/K9Ou47Qb4R

— Linda Yaccarino (@lindayacc) July 24, 2023
Both Yaccarino's and Musk's Twitter handles feature the X logo, although the Twitter blue bird is still visible across the platform.
Musk said on a post on Sunday he wanted to change Twitter's logo and polled his millions of followers on whether they would favour changing the site's colour scheme from blue to black.
He posted a picture of a stylised X against a black outer space-themed background. He also referred to the "interim X logo," and tweeted that "soon we shall bid adieu to the Twitter brand and, gradually, all the birds".
In response to a tweet asking what will tweets be called under "X", Musk replied "x's".
The logo

The original Twitter logo was designed in 2012 by a team of three. One of the designers, Martin Grasser, tweeted that the logo was designed to be simple, balanced, and legible even in very small sizes, almost like a lowercase "e."
Several weeks before completing his Twitter acquisition last year Musk had said that buying the company would speed up his ambition to create an "everything app" called "X" by three to five years.
Musk bought x.com back from PayPal in 2017, saying it had "sentimental value". Musk had co-founded x.com as an online bank in 1999 which later transformed into PayPal.
"X is the future state of unlimited interactivity – centred in audio, video, messaging, payments/banking – creating a global marketplace for ideas, goods, services, and opportunities," Yaccarino tweeted on Sunday.
Twitter issues
Yaccarino, the former advertising chief at NBCUniversal who started as Twitter CEO on June 5, has taken over when the social media platform is trying to reverse a plunge in advertising revenue.
Since the takeover of Twitter, the company has faced tumultuous times with layoffs, a sharp drop in advertisers and the meteoric rise of Threads, Meta's response to Twitter.