Elections in USA: Biden loses to Trump in the poll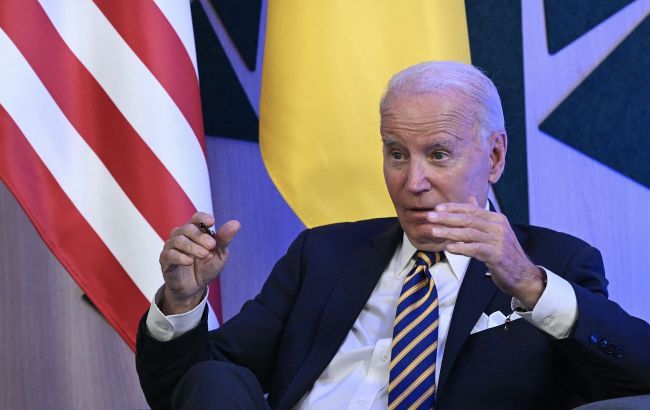 Photo: US President Joe Biden (GettyImages)
Approval ratings for current U.S. President Joe Biden have fallen to the lowest level throughout his presidency, according to NBC polls.
According to poll data, the majority of all voters disapprove of Biden's approach to foreign policy and the Israel-Hamas conflict. It also shows that Biden has, for the first time, trailed in approval rating behind his predecessor, Donald Trump.
Specifically, most Democrats believe that Israel has gone too far in its military actions in Gaza. Among voters aged 18 to 34, 70% disapprove of Biden's handling of the conflict.
According to the poll, 40% of registered voters approve of Biden's job performance, while 57% disapprove, marking the lowest approval rating (and highest disapproval) in the poll since he became president.
Biden's foreign policy
Currently, only 33% approve of Biden's actions in foreign policy, which is 8 points lower than in September. Specifically, 62% of voters, including 30% of Democrats, said they do not approve of the president's foreign policy.
Only 34% of all voters approve of how Biden is handling the Israel-Hamas conflict, while 56% say they disapprove.
Election 2024 in the USA
At the moment, two main political parties participate in the elections in the United States: the Democratic and Republican parties. Currently, for the Democratic Party, the incumbent president Joe Biden and Marianne Williamson are running.
As of November 13, 2023, the following well-known candidates from the Republican Party are participating in the 2024 U.S. presidential elections:
Donald Trump, former President of the United States
Doug Burgum, Governor of North Dakota
Ron DeSantis, Governor of Florida
Chris Christie, former Governor of New Jersey
Among these candidates, Donald Trump is the clear leader in the presidential race. He enjoys a high level of support among Republican voters and is the favorite among bookmakers.
Burgum is known for his conservative stance on security and immigration issues. DeSantis is a popular governor of Florida, known for his tough approach to COVID-19. Christie, the former governor of New Jersey, is recognized for his ability to appeal to independent voters.
According to NBC polls, 46% of respondents are willing to support Trump in the elections, while only 44% are willing to support Biden. Trump's support has remained virtually unchanged since July of this year, while Biden's support has declined.
Elections for the President of the United States will take place on November 5, 2024.
Earlier, we reported that former Vice President of the United States Mike Pence withdrew his candidacy from the elections.