Dozens of wounded, many fatalities: What is known about attack on Kostiantynivka as of now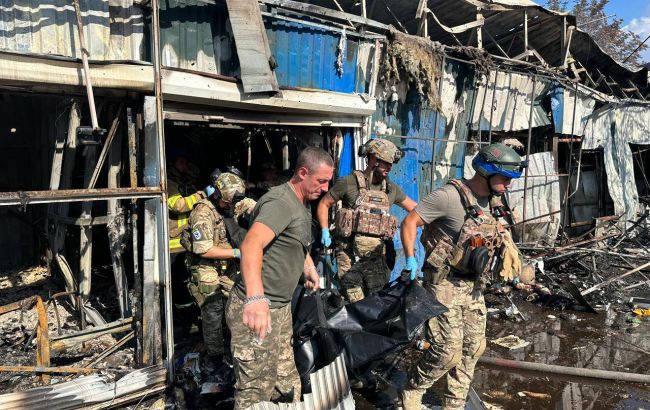 Dozens of wounded and many fatalities: What is known about attack on Kostiantynivka as of now (t.me/mvs_ukraine)
Russian terrorists have launched a missile strike on the Central Market in Kostiantynivka, Donetsk купшщт. The number of casualties continues to rise.
Find more details in the RBC-Ukraine report.
As reported by Donbas News, it is likely that the occupiers used S-300 missiles. After the attack, videos from the scene of the strike immediately appeared on social media. According to Radio Svoboda journalist from the scene of the attack, 16 people are already known to have died.
Later, Prime Minister Denis Shmyhal confirmed the information about the strike. According to him, 16 people were killed, and 20 were wounded as a result of the attack, including a child. All emergency services are currently working at the scene. The fire that broke out as a result of the strike has been contained.
The number of wounded continues to rise
According to the Minister of Internal Affairs, Ihor Klymenko, the number of injured has risen to 28 people. Approximately 30 trade pavilions were damaged due to the Russian attack.
Utter inhumanity
President Volodymyr Zelenskyy reacted to the attack on Kostiantynivka. The country's leader condemned anyone who tries to "turn a blind eye to reality" and continue any dealings with Russian terrorists.
When someone in the world still attempts to deal with anything Russian, it means turning a blind eye to this reality. The audacity of evil. The brazenness of wickedness. Utter inhumanity," Zelenskyy wrote.
Investigation initiated
As reported by the Donetsk Regional Prosecutor's Office, the Russians launched the attack at approximately 2 pm. A pre-trial investigation has been initiated into the violation of laws and customs of war.
As of 4 pm, there is information about 31 injured people. The injured have received varying degrees of severity of injuries, and they are currently receiving urgent medical assistance.
"According to preliminary information, 20 stores, power lines, an administrative building, and the 5th floor of a residential building have been damaged. Cars and 8 shops were completely destroyed by fire. Search and rescue operations are currently underway. People are still trapped under the rubble," the agency added.
The search and rescue operation has been completed
"As of 6 pm, as a result of the Russian shelling, 17 people were killed and 32 were injured," wrote Minister of Internal Affairs Ihor Klymenko.