Dollar in smartphone - Key points about online currency purchase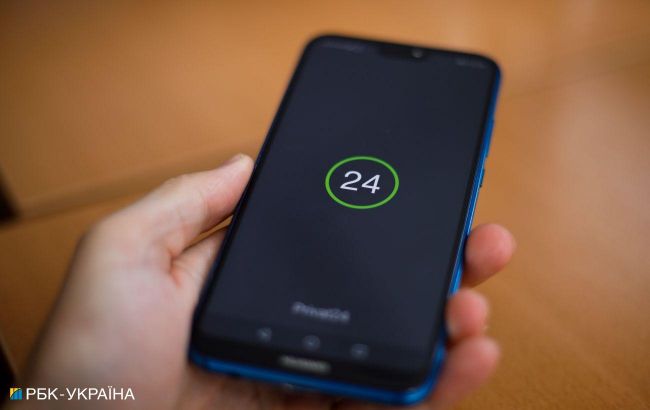 Ukrainians can once again buy currency through their smartphone (photo: Vitalii Nosach/RBC-Ukraine)
This week, the National Bank restored the ability for Ukrainians to buy currency online, as it was before the full-scale invasion of Russia. However, there are still some limitations in place.
The National Bank gave the green light
The National Bank has started the first stage of easing currency restrictions. As part of this, Ukrainians are once again allowed to purchase non-cash US dollars and euros.
The goal is to minimize the multiplicity of exchange rates. Further easing involves transitioning to a more flexible exchange rate and returning to inflation targeting. This is a monetary policy regime aimed at ensuring price stability in Ukraine.
The new rules came into effect on August 29, 2023.
Condition and limits
Important moment. To purchase non-cash US dollars and euros, there is no need to provide reasons or commitments for such transactions.
Currency sales are conducted at the exchange rate set by the bank. The limit is up to 50,000 Ukrainian Hryvnia (UAH) equivalent per client in a single bank.
It's worth noting that previously, the purchase of non-cash foreign currency required a mandatory deposit commitment of at least three months. This requirement still exists, but the monthly limit has been raised from 100,000 UAH to 200,000 UAH.
Thanks to this new initiative, Ukrainians will now be able to purchase dollars and euros, up to 50,000 UAH per month, directly onto their currency card at a single bank.
What will it impact
The National Bank believes that the relaxation of restrictions will encourage some of the demand to shift from cash currency to non-cash. Firstly, such operations are more convenient and secure. Secondly, the non-cash exchange rate is slightly lower than the cash rate.
In fact, this is the last point that explains the measure to reduce the difference between the cash and official exchange rates.
Photo: Currency loosening is expected to bring cash rates closer to the official rates (Vitalii Nosach/RBC-Ukraine)
Yuriy Krokhmal, Head of the Treasury Product Sales Department at Bank Avangard, commented to RBC-Ukraine that the decision to sell more non-cash currency to the public will lead to the convergence of the cash exchange rate with the official rate, which is fixed at 36.6 hryvnia per dollar.
"The large volume of currency purchased from banks will increase the flow of currency into the cash segment," he explained.
According to him, this will balance the foreign exchange market and help moderate the difference between the exchange rates.
Which banks sell currency and at what exchange rate
Below are the non-cash selling exchange rates at banks (as of September 1):
Sens Bank - 37.40 UAH per USD and 41.00 UAH per EUR

UkrSibbank - 37.45 UAH per USD and 40.97 UAH per EUR

ABank - 37.45 UAH per USD and 41.49 UAH per EUR

ProCredit Bank - 37.50 UAH per USD and 41.10 UAH per EUR

UkrGasBank - 37.50 UAH per USD and 41.55 UAH per EUR

PrivatBank - 37.45 UAH per USD and 41.66 UAH per EUR

Monobank - 37.44 UAH per USD and 41.15 UAH per EUR
Customers of PUMB and Raiffeisenbank currently do not have the option to buy currency online. On Raiffeisenbank's website, it is stated that you can open a deposit with a monthly limit of 200,000 UAH through the Raiffeisen Online app.
Please note that depending on the bank, buying dollars or euros online may involve additional expenses such as commissions and conversion fees. Additionally, there may be fees for withdrawing cash at bank branches.
Therefore, it is advisable to check the terms and conditions with your bank before conducting currency transactions.
How to buy currency: Step-by-step instructions
The main requirement for buying dollars or euros online is to have a card in the corresponding currency (a virtual card will work). Below, we'll go through the process using examples.
PrivatBank
Its clients can purchase currency through the Privat24 service to be credited to currency cards within the limit of 50,000 hryvnias per month. Sales are made at the current card rate, which is 37.45 hryvnias per dollar.
Photo: the purchase is made from a hryvnia card to a currency card
If the client does not have a currency card, a virtual one can be issued for free in Privat24 in a few minutes.
To buy currency, you need to:
open the "Transfers to Cards" menu
select the hryvnia card (from which funds will be deducted)
choose the dollar or euro card (where the funds will be credited)
enter the amount
confirm the transaction.
Note: During the confirmation stage, customers are notified of the commission. For a transaction of $100, for example, the commission would be $0.50.
Photo: Online currency purchase in Privat24 is subject to a commission.
Prior to the new regulations, non-cash currency could only be purchased at a rate of 37.45 hryvnias per dollar with a deposit requirement of at least three months. Additionally, if a client did not submit a request to terminate the deposit within a month of its maturity date, it would automatically renew.
monobank
Popular among Ukrainians, monobank has also resumed these operations starting from August 29. To purchase foreign currency, you will also need the corresponding card, which can be opened online.
How to apply for a monobank foreign currency card (for existing customers):
open the "Cards and Accounts" menu (by tapping the icon at the top of the screen)

choose "Open a card or account."

navigate to the "Cards" section.

select your preferred currency.

click "Open."
To buy dollars at a rate of 37.44, you need to:
open the monobank app

select "Transfer to a card"

choose the dollar card

specify the desired amount in hryvnias

confirm the transaction.
Photo: Buying dollars in monobank with a commission
Note that, for example, during a transaction of 100 dollars (3745 hryvnias), a commission of 138.38 hryvnias is deducted. If you want to withdraw cash currency at the counter, there will be an additional 0.9% commission.