Dollar falls below psychological level on interbank market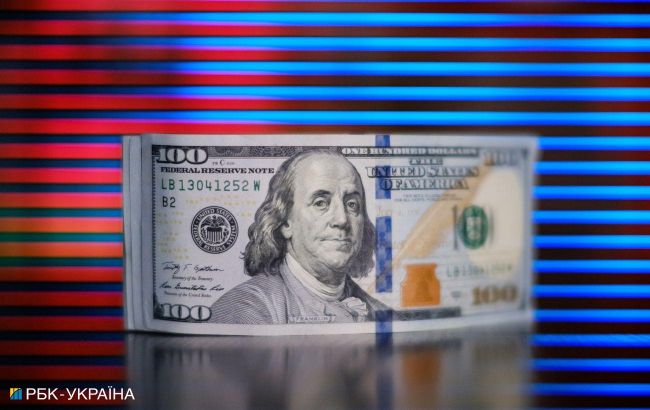 Illustrative photo (Vitalii Nosach, RBC-Ukraine)
On November 7, 2023, the exchange rate of the U.S. dollar on the interbank foreign exchange market dropped by another 6 kopecks, falling below the 36 hryvnias per dollar mark, according to Ukrdealing.
This morning, dollar trading is taking place within the range of 35.9750 to 35.9950 hryvnias per dollar.
Consequently, one month after the National Bank of Ukraine (NBU) transitioned to a flexible exchange rate regime, the dollar has depreciated by nearly 1 hryvnia.
Before this change, the effective interbank rate was 36.93 hryvnias per dollar starting from July 2022 (the official rate being 36.57 hryvnias per dollar plus 1%). The National Bank of Ukraine was selling currency to banks at this price.
After adopting the flexible regime, the interbank rate initially stood at 36.60 but then started to decline.
NBU interventions
In October, the National Bank of Ukraine sold a record amount of currency since June 2022, amounting to 3.338 billion dollars, to support the balance.
Additionally, the NBU emphasizes that the market is adapting to the new conditions. The exchange rate is moderately fluctuating on both sides, and the volumes and customer transaction balances are gradually returning to the levels of previous months, while NBU interventions are decreasing.
"Over the past few weeks, the actions of the exchange rate regime have even led to some strengthening of the hryvnia on both the interbank and cash markets," as stated by the NBU.
Managed exchange rate flexibility
The NBU introduced a managed exchange rate flexibility regime on October 3.
According to the Governor of the NBU, Andrii Pyshnyi, this new policy does not mean that the hryvnia will continuously depreciate, and the term "managed exchange rate flexibility" does not equate to permanent devaluation.
According to his statements, to allow the exchange rate to move in both directions, the NBU will cover the structural deficit of currency on the market, and any fluctuations in the exchange rate, whether in the direction of the weakening or strengthening of the hryvnia, will be significantly limited.
Within a month, the official dollar rate has fallen from 36.57 to 36.04 hryvnias per dollar.