'Do you have enough metro stations for schooling?' Zelenskyy calls for unity to prevent Kharkiv-like situation in Europe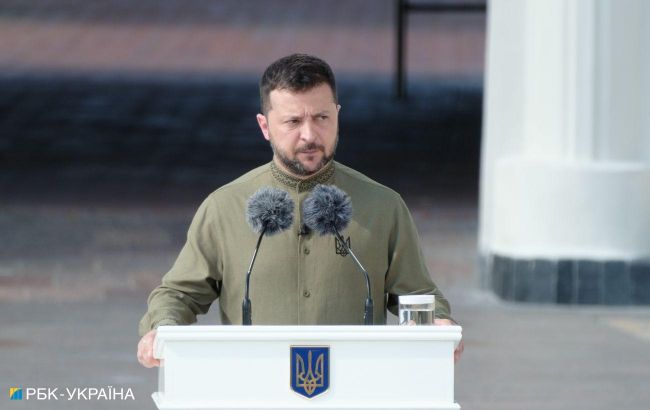 President of Ukraine Volodymyr Zelenskyy (Vitalii Nosach, RBC-Ukraine)
"This Tuesday, I visited the Kharkiv region in the eastern Ukraine. At least 1.2 million residents are there in Kharkiv. The distance from the city to the border with Russia is less than 40 km, or less than three minutes of flight time for S-300 missiles, which the Russian army uses to terrorize Kharkiv each day. Thousands and thousands of facilities have already been destroyed by such missiles: buildings, schools, universities, transport," the president said.
According to Zelenskyy, despite the regular shelling, the government is doing everything possible to protect the people in Kharkiv and ensure the functioning of all its key institutions.
Because of the insufficient effectiveness of air defense systems, children cannot physically attend schools in Kharkiv. But to address this issue, 65 school classes have been opened underground in the subway. The subway is the only safe option for the city of a million people to gather children for school. This is what living next to Russia is like.
"Dear leaders, are there enough underground stations in your cities where it would be possible to organize protected schooling for children if Russia's threats become real? And it is preparing them to become real," the president said.
To prevent future wars in other European countries and to ensure that no country experiences what Kharkiv is going through today, the unity of Ukraine and its allies must work at 100%.
"Let Putin's ambitions be in ruins, not ours, not our countries, not our cities. Children deserve safety everywhere in their country, not just in the subway, not just in underground shelters. We must make this possible, and we will. We must win," added Zelenskyy.
Risk of frozen conflict
During his speech at the European Political Community summit, Zelenskyy urged allies not to allow Russia to freeze the war; otherwise, it may restore its military potential by 2028 and attempt to attack other countries.
As the country's leader explained, the enemy is considering various scenarios for the coming years, one of which is particularly dangerous.
"Please remember that the most dangerous enemy is the one who has drawn conclusions and prepared for the next blow based on these conclusions," said Zelenskyy.
Situation in the Kharkiv region
Russian terrorists almost daily strike the region. Most often, border settlements or those near the front line are under fire.