Defense Forces destroyed 27 units of Russian military equipment in the Tavriisk direction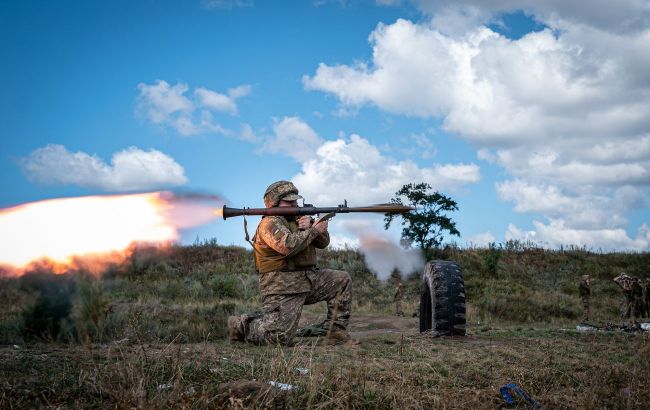 Ukrainian military (photo: Getty Images)
Defense Forces in the Tavriisk direction continue to inflict losses on Russian occupiers in both personnel and equipment. Ukrainian military personnel have executed over a thousand fire missions in a single day, says the Commander of the Operational-Strategic Troops Grouping "Tavria," Oleskandr Tarnavskyi, in his Telegram channel.
In the Tavriisk direction, the Defense Forces continue their operations. Overall, in the past day, the enemy attacked our positions 16 times and conducted 626 shelling incidents, including 15 airstrikes," he reported.
According to Tarnavskyi, the artillery units of the Defense Forces in the Tavriisk direction completed 1,248 fire missions within a day.
Over the last day, enemy losses in killed, wounded, and captured individuals amounted to 232 people (79 killed, 153 wounded).
Ukrainian troops destroyed 27 units of Russian military equipment, including:
six tanks;
six armored personnel carriers (APCs);
eight artillery systems and mortars;
one multiple launch rocket system (MLRS);
one anti-tank guided missile system (ATGM);
one self-propelled gun (SPG);
one unmanned aerial vehicle (UAV);
two units of automotive equipment;
one unit of special equipment.
Additionally, the Defense Forces also destroyed six ammunition depots and one command observation post.
The frontline situation
Institute for the Study of War reported that Ukrainian soldiers have likely made advancements along the Avdiivka-Donetsk front lines. Specifically, the military has continued to establish a foothold for an offensive on the left bank of the Dnipro River in the Kherson region.
According to information from DeepStateMap, Defense Forces are continuing to advance in the vicinity of the town of Robotyne in the Zaporizhzhia region.