Deadly verdict for Russians: How Ukrainian fighters of 14th regiment use FPV drones, video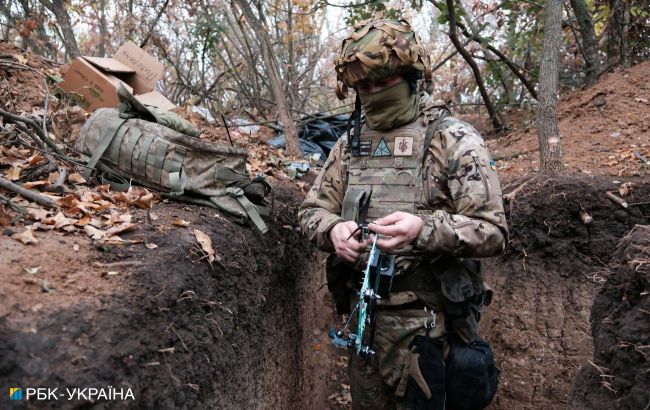 Photo: RBC-Ukraine
The soldiers of the 14th Separate Regiment of the Armed Forces of Ukraine are operating across the entire front line, using precision FPV drones to destroy enemy vehicles and military facilities.
The members of the regiment shared with RBC-Ukraine the details of their work with FPV drones and military actions in the Zaporizhzhia direction.
RBC-Ukraine's filming crew went to the Zaporizhzhia front to meet the 14th regiment, which is working with FPV drones. We captured unique footage of the defenders in action on the front lines and learned about their courageous operations firsthand. Below is the direct speech of the military.
Serhii Skotar
Chief company sergeant of the 14th regiment
Our company and battalion specialize in FPV drones. We carry out our tasks in different directions, whether it's Zaporizhzhia, Kherson, or Donetsk region. We search for targets, support infantry with fire during advances, and destroy enemy vehicles while in defense. We identify promising targets so that we can effectively advance in different front sectors.
The uniqueness of our regiment lies not so much in the technology as in the motivation of our personnel. Everyone who joined our regiment, whether mobilized or professional soldiers, has long service experience. They are civilians but have a connection to the national movement or patriotic organizations. These are people who have proven themselves well on the front lines. This is probably the biggest advantage that sets our regiment apart from other regular units of the Armed Forces of Ukraine. It's the motivation and the desire to fulfill our tasks 24/7.
FPV drones are much better than, for example, artillery in terms of accuracy. While artillery may require several rounds to zero in on its target, an FPV drone goes precisely where the operator directs it. However, we face challenges, such as Russian electronic warfare. Everyone knows about it, everyone talks about it. Each unit has this problem because their (Russian) EW is above ours. But we fight, and it also depends on the pilot's experience. The more experienced the pilot, the better they can navigate the drone to bypass EW or strengthen their signal.
Dmytro 'Tryton' Herzhan
Company commander of the 14th regiment
While working with FPV, there is communication with neighboring units, as front line areas are determined where these means of attack can be directly applied, and position preparation takes place. Pilot crews go out. Aerial reconnaissance provides the target, and our pilots are directly engaged in the attack. FPV allows for more precise strikes, entering bunkers, flying into the windows of buildings, and even hitting the cabin of a vehicle.
There have been many cases when guys fantastically carried out tasks. It's a very useful and effective means of attack. You can't hit as precisely with a mortar. When enemy groups advance, a fragmentation payload precisely targets the group, and the desire to continue the assault diminishes.
One drone can destroy a car or light armored vehicle, or it can damage a tank. If you could hit vulnerable areas accurately, you can destroy tanks and various dangerous systems like Solntsepyok (multiple rocket launchers).
'Bora-Bora'
FPV drone pilot of the 14th regiment
The most successful operation was when we burned the evacuation, then the tanks, and the battery. But the most successful is the evacuation. Then we managed to hit a lot of Russian personnel. Dozens. I prefer targeting equipment, but if we find more than three people, then it becomes a relevant target.
For different tasks, there are different drones. We use kamikaze – it's clear from the name that it's a one-time use. There are, of course, the same drones, but bombers carry a payload. In our work, we only use kamikaze.
'Monkey'
FPV drone spotter of the 14th regiment (responsible for ammunition on drones)
We have been helping our guys from assault groups clear the Zaporizhzhia direction for quite some time. We've been working here for a long time. Therefore, almost all assaults had our support. Especially in the direction of Robotyne, so we spent the whole summer in landings around Zaporizhzhia or nearby villages.
Usually, our main task is to destroy enemy vehicles that greatly hinder our infantry's progress and to eliminate enemy firepower that also obstructs our infantry. It often happens that the infantry cannot move forward simply because there's one machine gunner sitting there and not letting them through.
Our task is to take out that machine gunner so that as few guys as possible fall and can move forward more effectively. We work with the coordination of the guys, get information from their command or directly from them, and try to help them as much as possible in advancing forward.