Cancellations of flights and trains: What to expect for passengers in Europe in August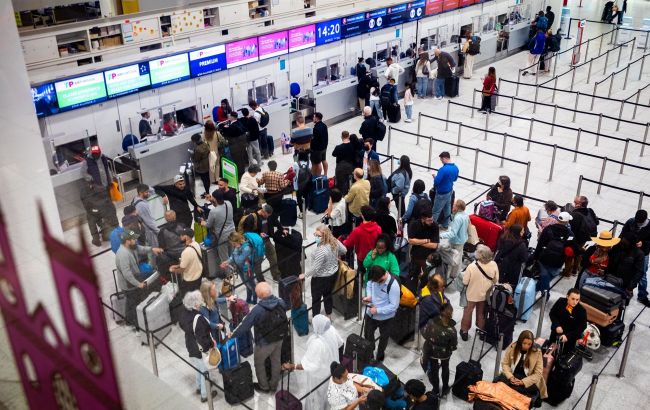 Gatwick Airport in the UK (Photo: Getty Images)
European transport workers continue to protest against low wages and unsatisfactory working conditions. Tourists are being warned to check flight and train schedules before traveling throughout the summer.
However, the protests are on the decline, and it seems that the situation with flights across Europe in August will be calmer than in the earlier part of the summer.
Here's where passengers can expect flight and train delays, reported by Euronews Travel.
Many protests could be canceled: details
The Union Syndicale Bruxelles (USB), representing EU civil servants, has reached a fundamental agreement with Eurocontrol to prevent strikes this summer. The proposal was put to a vote by union members, and USB hopes for a "positive voting result," after which the protests could be canceled.
Employees of Eurocontrol had threatened mass protests that could begin at any time over the next six months. Eurocontrol employees play a crucial role in ensuring the efficiency of air traffic management across the continent. The agency checks flight plans and processes massive amounts of data daily.
Many airport workers' protests have already been canceled (Photo: Getty Images)
Where flight disruptions are possible in Europe: countries and airports
France: the travelers warned about new protests
Trade unions across France continue to protest against raising the retirement age from 62 to 64. Protests have erupted throughout the country. Strikes have been ongoing since January, significantly affecting domestic and international travel.
Although protests have slowed, strikes by air traffic controllers are still affecting Ryanair's flights. The company had to cancel 900 flights in June. Travelers are advised to check accurate information about flight status before departure.
England: Summer strikes at airports
Airport security staff canceled a strike at London's Heathrow Airport after their salary demands were met. Over 2,000 staff members were set to strike for 31 days this summer. The action was planned to coincide with the start of school holidays and August weekends in the UK, a peak vacation period.
The strikes have been canceled, and Heathrow Airport has stated they are looking forward to a "great summer" for travelers.
Planned strikes at London's Gatwick Airport were also canceled after three out of four involved companies accepted new wage proposals. The fourth company is currently voting on the agreement.
This summer, nearly 1,000 employees from four companies were ready to leave for eight days due to salary disputes. For instance, employees of ASC Cargo Handling (servicing flights for Tui) and Menzies Aviation (Wizz Air) promise they will no longer go on strike.
Protests will continue at French airports (Photo: wikipedia.org)
However, there is still a possibility that your flight might be canceled, as easyJet has already canceled 1700 flights in preparation for strikes. If you plan to travel from August 4th to 8th, check with your airline whether your flight will operate.
Security and technical workers at Birmingham Airport canceled planned strikes last month, but flight disruptions are still expected. Drivers and operators fueling over three-quarters of the airport's aircraft rejected a pay proposal on August 1st.
Moreover, an indefinite strike will begin on Tuesday, August 15th, leading to flight cancellations. This could potentially impact flights by TUI, easyJet, Wizz Air, Ryanair, Lufthansa, and Emirates.
Hundreds of train services were canceled. Rail strikes across the UK
Railway workers' strikes are ongoing in the UK. Members of the Aslef union across 15 railway companies will refuse to work overtime.
Hundreds of train services will likely be canceled daily, affecting most of London's suburban lines and major rail operators such as Avanti West Coast, LNER, and CrossCountry.
Passengers at Gatwick Airport, UK (Photo: wikipedia.org)
Workers claim that many train drivers have not received a pay raise in four years. They are demanding salary increases that consider the current high inflation level.
Italy: Strikes in public transport and airports
Transport strikes are becoming common in Italy during the summer. However, there are promises that there will be no strikes in the aviation sector from July 27th to September 5th.
There are no other planned transport strikes in Italy, but it's always advisable to check train and flight schedules before your trip.
Belgium: Ryanair pilots warn of new protests
Ryanair pilots in Belgium went on strike last weekend, leading to the cancellation of nearly 100 flights.
Many workers left Charleroi Airport on July 29th and 30th. Notifications about potential future strikes are relevant until October 2024, and CNE union members warn that protests are likely to continue.
"We apologize in advance to passengers planning to travel with Ryanair until October 2024 who may be affected by these strikes. But we can no longer allow Ryanair to violate the fundamental principles of Belgian social dialogue," the unions said in a press release.
Ryanair pilots in Belgium announce a new strike (Photo: wikipedia.org)
Greece: Evacuation from danger zones due to fires
While Greece hasn't been affected by transport protests, forest fires on the islands of Rhodes and Corfu led to the evacuation of local residents and tourists and the cancellation of mass celebrations.
Portugal: Protests in airports across the country
Ground personnel at Portuguese airports plan to strike from August 5th to 6th. They insist on higher holiday pay.
That could result in delays during the check-in process, security checks, and baggage retrieval. Flight delays are also possible.
Spain: Indefinite strike at Barcelona Airport
Security staff at Barcelona-El Prat Airport announced an indefinite strike starting on August 10th. If these protests are not canceled, employee stoppages will occur during peak hours from Thursday to Monday, between 4-7 am and 9-11 am and 4-6 pm.
That could lead to delays in airport security checks, so all passengers are advised to arrive at the airport well in advance.


Barcelona-El Prat, the largest airport in Catalonia (Photo: wikipedia.org)