Most crowded tourist destinations in Europe this summer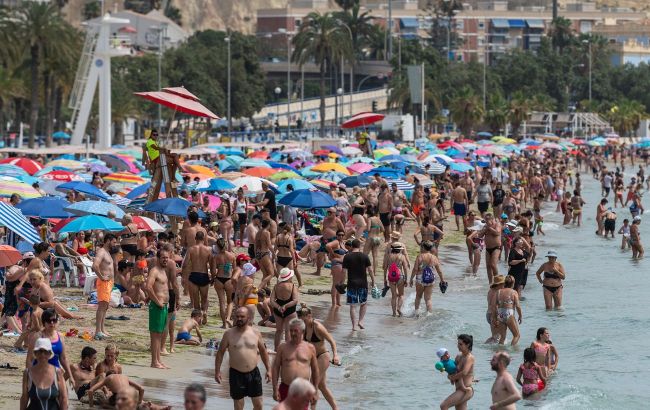 Beach in Alicante, Spain (gettyimages.com)
Europe continues to captivate tourists from around the world, with a growing number of globetrotters seeking to explore cities rich in history and culture, as well as visit beautiful locations. RBC-Ukraine, citing thethinkingtraveller.com, reports on the most crowded European location and beaches.
The most visited European landmarks

Experts analyzed reviews on specialized websites and social media, focusing on keywords like "overcrowded" and "hard to navigate." The list includes the most visited attractions in Europe. The most crowded ones are the following:
Edinburgh Castle, Scotland
Buckingham Palace, England
Siam Park, Tenerife, Spain
Grand Canal, Venice, Italy
Roman Baths, Bath, England
Tower of London, England
Louvre Museum, Paris, France
Acropolis, Athens, Greece
British Museum, London, England
Musée d'Orsay, Paris, France
(Photo: Edinburgh Castle - pixabay.com)
The "busiest" tourist attractions in Italy, Spain, and Greece, which are popular among tourists, were also named.
Italy: Grand Canal in Venice, Vatican Museums in Rome, Colosseum
Spain: Siam Park in Tenerife, Mercado de la Boqueria in Barcelona, Sagrada Familia in Barcelona
Greece: Acropolis in Athens, Lindos village in Rhodes, Parthenon in Athens.
Obviously, visiting these places is best done not during peak vacation and holiday seasons to be able to enjoy these landmarks without the overwhelming crowds.
(Photo: Venice, Italy - pixabay.com)
Overcrowded european beaches

During the summer, tourists in Europe are not only drawn to historical sites, architecture, and museums, but also to the beaches. However, some coastal locations are not as attractive in real life as they appear in pictures, and as a result, people find themselves sunbathing and swimming amidst large crowds. The following coastal spots are known to be very crowded:
Elafonisi Beach in Crete, Greece
Fig Tree Bay Beach in Protaras, Cyprus
Barceloneta Beach in Barcelona, Spain
Navagio Beach on Zakynthos Island, Greece
Levante Beach in Alicante, Spain
Red Beach in Santorini, Greece.
(Photo: Beach in Barcelona - gettyimages.com)
Beach vacation in Southern Europe has become dangerous for health due to record-breaking heatwaves. Ten cities in Italy have declared a red-level alert due to health risks, leading popular tourist attractions to temporarily being closed to visitors.