Bus with Ukrainians involved in accident in Italy: Casualties include children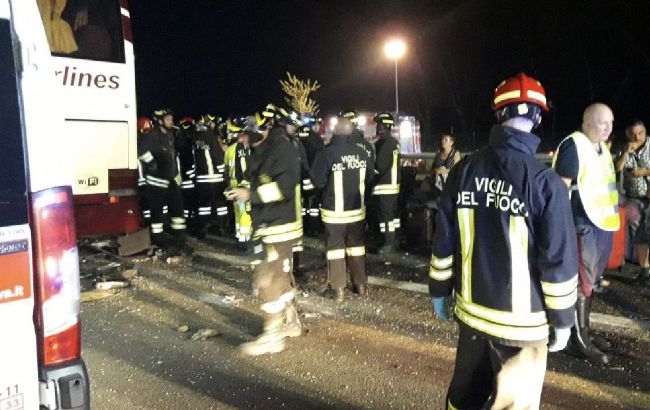 In Italy, a bus with Ukrainians got into a traffic accident (Photo: twitter.com/vigilidelfuoco)
A bus with citizens of Ukraine was involved in a traffic accident in northern Italy. As a result of the accident, 15 people were injured, including children, according to ANSA.
The accident occurred on August 25 around 8:00 PM near the town of Latizana on the A4 highway, which connects Venice and Trieste.
A bus with 30 Ukrainian tourists was returning to Ukraine and collided with a Polish truck carrying fruits and vegetables.
According to article, most people managed to get out of the bus on their own, while around 10 individuals were rescued by the emergency services.
According to preliminary information, 15 people were injured in the accident, including seven children. A woman and two minors in critical condition were airlifted to hospitals in Udine and Trieste.
Another 27 people were not injured. After being examined at the accident scene, they were taken to the municipal office of the Civil Protection Service in the Friuli-Venezia Giulia region.
Photo: In Italy, a bus with Ukrainians got into a traffic accident (twitter.com/vigilidelfuoco).