Blinken pledges $1.3 billion aid for Ukraine's recovery and security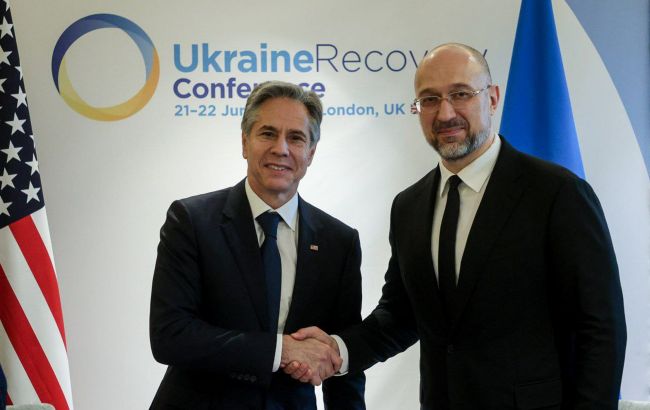 Ukrainian Prime Minister Denys Shmyhal met with US Secretary of State Antony Blinken, discussing Ukraine's swift recovery and insurance against military-political risks, according to Shmyhal's Telegram channel.
During the meeting, which took place at the Ukraine Reconstruction Conference, the Ukrainian Prime Minister thanked the United States for its strong and comprehensive support, including the provision of weapons and an additional $1.3 billion in financial aid.
Shmyhal and Blinken discussed cooperation in five key priorities for Ukraine's rapid recovery, with a particular focus on humanitarian demining, where the United States can assist with equipment and specialist training.
The Ukrainian Prime Minister emphasized the importance of insuring against military-political risks, as this will pave the way for investments and strengthen the economic stability of our country.
He also highlighted the need for assistance to Ukrainian small and medium-sized businesses, particularly through the provision of grant support, which creates job opportunities and economic prospects.
"I am grateful to Antony Blinken for paying attention to the reconstruction issues. We know that the United States will support Ukraine as long as needed," said Shmyhal.
US assistance to Ukraine

The United States supports Ukraine in the war and regularly provides aid.
Just yesterday, Blinken announced the intention to allocate an additional $1.3 billion in assistance for the reconstruction of Ukraine. The majority of the funds will be directed towards restoring the country's energy system and critical infrastructure.
These funds will be provided from the existing reserves of the Pentagon under President Joe Biden's authority.
Since the beginning of Russia's full-scale invasion, the United States has provided Ukraine with approximately $63 billion in aid.