Black Friday 2023: How to avoid becoming victim of fraud during mass sales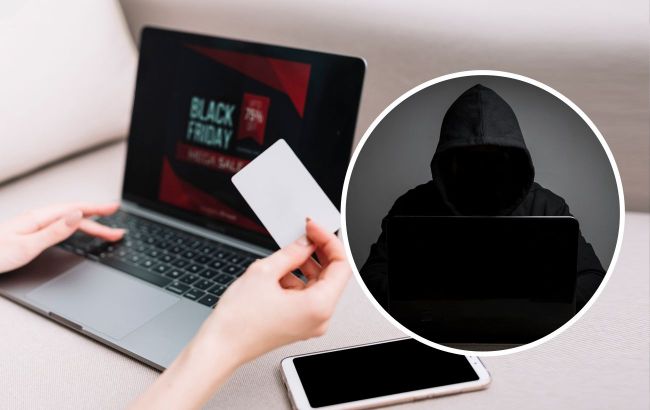 How not to become a victim of fraud on Black Friday (RBC-Ukraine collage)
Black Friday in Ukraine is approaching soon, and preparing for massive sales and discounts is essential to seize the opportunity to buy needed items at favorable prices. Many people will be shopping primarily online, increasing the risk of encountering scammers.
During the preparation of this material, materials from the State Consumer Protection Service and Cyberpolice were used.
How to shop on Black Friday
Officially, Black Friday in 2023 is on November 25. However, Ukrainian stores have already begun their traditional annual sales. From November 15 to 18, many stores will start reducing prices and announce various discounts and promotions.
The Black Friday days are expected to last until November 27-28, especially as November 27 is Cyber Monday, with mega sales in online stores.
It is crucial to follow important shopping rules, as marketers use various tactics to attract buyers and offer the chance to purchase items at inflated prices. Scammers also take advantage of these sales.
Rules for Safe Shopping on Black Friday
Prepare a list in advance
Carefully plan a list of necessary items you can purchase during the sales. Compare prices for these items in different online and, if possible, physical stores before the sale period. During discounts, many sellers may mark down the price but return it to the original.
Study configurations and technical specifications. Familiarize yourself with the designs and technical specifications of the products. There is a risk of buying something inexpensive during the sale but without the required features.
Set a budget
Consider how much you are willing to spend at a sale. If you have an approximate list of items, write the maximum amount you will pay for that item next to it.
When shopping in stores, pay attention to the price and quality of the goods. After all, buyers often quickly add goods with a significant discount to their shopping carts, and sellers sell low-quality goods for profit.
Check multiple stores
Once you have a list of necessary items, search for relevant online stores. Check their assortments and read customer reviews. This will save you time and money, as you won't have to browse dozens of stores to find suitable discounts.
Verify information carefully
Before making a payment, check the page where you buy the product. Scammers can create fake pages on popular sites to obtain buyers' data. After registration from your account, they can withdraw funds.
Pay attention to necessary, accessible, reliable, and timely information.
Make sure the necessary information about the product is available, accessible, reliable, and timely to avoid purchasing counterfeit items. Product information should be in the state language, and products with warranty periods should come with warranty certificates.
Consumer rights
A discounted price or sale does not mean the seller can sell a substandard or unsuitable product. If the product is damaged, doesn't meet your expectations, or its characteristics do not match the stated ones – you have the right to return it and get your money back. You can also exchange it within 14 days.
Goods purchased with a discount are subject to the requirements outlined in Article 8 of the Law of Ukraine "On Consumer Rights Protection," covering warranty repairs, exchanges, termination of the purchase and sale agreement, and refunds for the purchased goods.
Always insist on a receipt, payment document, fiscal or trade check, which will allow you to exchange or return the product.
Consider purchases carefully
If something is being promoted in front of you or the website indicates the item is running out, don't succumb to your instincts. It does not necessarily mean that you need this item.
Take a minute and ask yourself: Do I need this thing? Or can I live without it for another month? If the answer is "yes," it will save you from impulsive purchases. Such instincts are pleasant for the seller but bad friends for buyers.