Biden-Xi Jinping meeting is bad news for Putin: Expert explains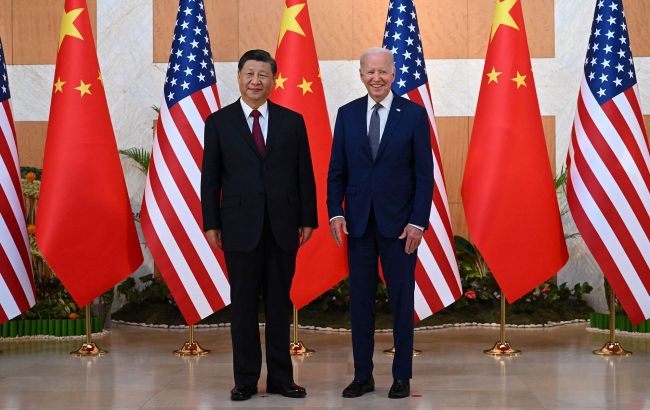 U.S. President Joe Biden and Chinese leader Xi Jinping (Getty Images)
The meeting of the U.S. President Joe Biden and Chinese leader Xi Jinping, scheduled for November 15 in San Francisco, spells bad news for Russian President Vladimir Putin, according to commentary from Olexandr Kraiev, an analyst at the Ukrainian Prism center.
In Kraiev's opinion, the unfavorable aspect for Putin lies in the fact that the U.S. and China are negotiating new rules and determining Russia's fate without his involvement. However, the analyst suggests that reaching an agreement in San Francisco is unlikely, as it is a complex and lengthy process.
"But the fact that this process will begin, that within the basic framework they will be able to agree on what can and cannot be done, define the primary points, let's say, of mutual coexistence – that's for sure. And the main thing is that the process must continue," he says.
Kraiev admits that he was surprised by the Chinese showing perhaps the most interest in the meeting.
"Americans are preparing and promoting it, but China is the one mainly talking about it. I think this will not end with just one meeting, and this is a very good signal for the whole world," adds the analyst.
Clearly, as the expert points out, the meeting of U.S. and Chinese leaders is not liked by Moscow. Not because geopolitical competitors are coming together, as they remain in a frienemy state, but because Xi Jinping is willing to talk to Biden behind Vladimir Putin's back.
"China is ready to negotiate with the U.S. and not support Russia. Essentially, it is ready to trade Russian interests. Russians hoped for Chinese support since March 2022, with requests for ballistic missiles, operational-tactical drones, dual-use goods, and Russians received nothing. Yes, Russians got shells, uniforms, and some Chinese resources through North Korea, but this is far from the level of support Moscow hoped for. Russia is no longer considered a strong state; it is not included in the club of the big and powerful. This is precisely what Russia dreamed of, and one of the reasons why it started the war with Ukraine," explains Olexandr Kraiev.
Last week, RBC-Ukraine reported that China has its perception of the Russo-Ukrainian war. In its eyes, Ukraine is an unconditional ally of the U.S. Additionally, it justifies Russian aggression by claiming that Washington is allegedly expanding NATO to the east. Biden will warn against direct military aid to Russia and will insist that Xi pressures Putin to end the war. However, significant breakthroughs are not expected, nor is a change in Chinese rhetoric.