Best teas to boost immunity in autumn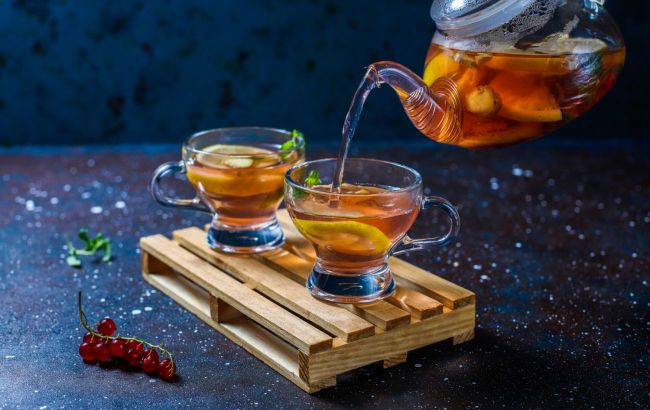 These teas can strengthen health and improve well-being (photo: freepik)
During the cold season, it is important to enrich the body with essential minerals and vitamins to strengthen health and improve well-being, especially after illness. Natural herbal teas can be helpful in achieving this goal, thinks allergist Olga Tarnavska.
An additional advantage is that you can customize the ingredients based on taste preferences and the body's needs. The expert shared insights on the best teas to drink for health improvement.
Teas that boost immunity
"When facing a high frequency of viral infections, where chemical medications negatively impact other systems and organs, it is advisable to strengthen the immune system. This can be done in various ways, including the use of different herbal teas," says the doctor.
For this purpose, Tarnavska recommends choosing teas that contain the following ingredients:
Eucalyptus: Known worldwide for its healing properties due to the abundance of essential oils in its chemical composition. Properly brewing eucalyptus leaves can help reduce fever without resorting to pharmaceuticals, effectively combat pathogenic bacteria, and clear mucus from the bronchi and lungs. Eucalyptus also positively affects the tissues of the gastrointestinal tract.

St. John's Wort: Rich in nicotinic acid, essential oils, and vitamins A, B, C, and PP. Tea made from this herb has a gentle but effective antimicrobial and anti-inflammatory action and promotes improved circulation, bile secretion, and digestive processes.

Sage: Another effective natural antibiotic. In addition to its positive effects on respiratory and oral cavity diseases, sage tea enhances memory and improves brain function. It is particularly recommended to consume hot sage tea during bronchitis treatment.

Linden: The flowers of this tree contain vitamins A, and C, saponins, and tannins. Linden tea is recommended for accelerating recovery from inflammatory, cold-related illnesses, neuralgia, and childhood infections.

Hibiscus (Karkade): A beverage that includes the flowers of Sudanese rose helps normalize blood pressure, eliminate toxins, strengthen blood vessels, and improve the liver and gastrointestinal organs' function.

Marigold (Calendula): The flowers of this plant, used to make teas, contain natural phytoncides providing an effective anti-inflammatory effect. The chemical composition also includes essential oils and valuable organic acids.

Thyme: Considered one of the healthiest plants. Drinking tea made from thyme helps strengthen the immune system and cope faster with various diseases – colds, bacterial, and viral infections. Its antiseptic properties are due to the presence of vitamins C, B, a rich set of trace elements, flavonoids, and tannins.
Enhancing the beneficial effects of tea
To strengthen the immune system, the doctor suggests adding herbs, fruits, and berries such as:
Rosehip and sea buckthorn
Plantain
Cherry, blackcurrant, and elderberry
Cranberries
Mint
"Regular consumption of tea with these components will help regulate metabolism and balance the concentration of trace elements in the body. Even in adverse weather conditions or negative environmental factors, the body will be more resilient to various illnesses. I want to highlight ginger tea separately for immune system enhancement and cold prevention," says Tarnavska.
We previously wrote about foods that are most effective in enriching the body with vitamin D.