Archaeologists uncover complete set of Bronze Age women's jewelry in field: Photo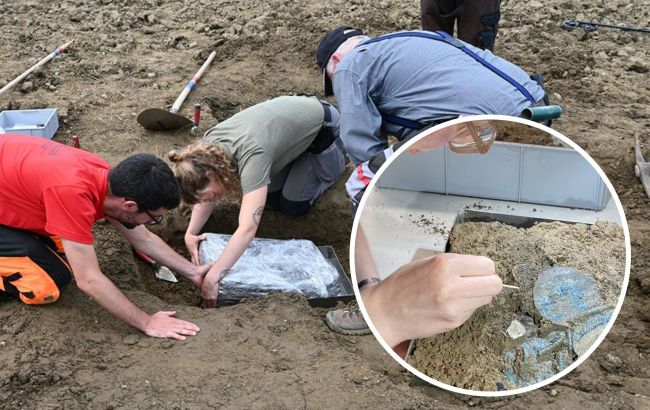 Archaeologists found a box of Bronze Age jewelry (Collage by RBC-Ukraine)
A volunteer named Franz Zan from the town of Güttigen in the canton of Thurgau, Switzerland, made an unusual discovery. In August, while walking across a freshly plowed field, he came across unusual objects – bronze disks with spikes. He suspected that his find was very valuable and contacted the Archaeology Department.
What archaeologists were able to discover on the farmer's field in Switzerland, reports RBC-Ukraine with reference to Thurgau.
After the volunteer reported the unusual discovery, a group of archaeologists arrived at the site. It turned out that the strange spiked discs were jewelry items often found in burials or ritual sites.
Excavations on the field did not reveal any burial traces, and it was discovered that treasures had been hidden there in an organic container or bag that had long decomposed. Researchers cut out a portion of the soil and transported it to the conservation laboratory in Frauenfeld for study.
Fourteen bronze discs with spikes were found – round, with pointed protrusions in the center, surrounded by concentric circles. Initially, a rope or leather strap passed through a hole in each disc, and spirals served as inserts between them. In the soil, archaeologists also found 11 bronze and 8 large gold wire spirals.
Bronze Age jewelry was unearthed in Switzerland (Photo: Thurgau)
Additionally, dozens of rings and tiny amber beads, a bronze arrowhead, a beaver tooth, a perforated bear tooth, a rock crystal, a fossilized shark tooth, a small ammonite, and several pieces of Polish ore were found.
According to the research results, the discovered jewelry is typical of the Bronze Age, specifically the Middle Bronze Age, dating back to around 1500 BCE. Women of that era wore such necklaces made of discs with spirals.
Other items suggest that, in all likelihood, a box with treasures was buried in the ground. The bear tooth, rock crystal, various stones – all of these were considered amulets with special protective or healing properties.
It is worth noting that the jewelry was hidden at a time when important advanced cultures flourished in the Mediterranean region, Egypt and Crete. Little is known about settlements from that era in Thurgau.
After restoration and study, all the found items will be exhibited at the Museum of Archaeology in Frauenfeld. These research findings will also be published for the public.
Previously, we reported that amphorae with wine over 5,000 years old were found in one of Egypt's tombs.