Air defense strengthening and EU accession: Zelenskyy meets with German MFA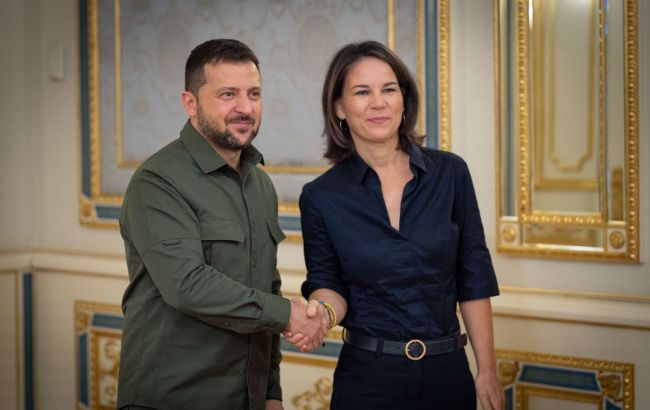 The President of Ukraine, Volodymyr Zelenskyy, and the Minister of Foreign Affairs of Germany, Annalena Baerbock (Photo: president.gov.ua)
President of Ukraine Volodymyr Zelenskyy held talks with the Minister of Foreign Affairs of Germany, Annalena Baerbock. The parties discussed, among other things, the strengthening of our country's air defense, according to the head of the Ukrainian state.
He notes that Ukraine values the support from Germany, particularly the new package of military assistance.
According to the President, the main topics during the negotiations were:
Defense cooperation.
Protection of civilian life in Ukraine, especially in the energy sector.
European integration of Ukraine and progress in implementing the recommendations of the European Commission.
According to the Office of the President, the head of state provided detailed information about the needs of Ukrainian defenders. The discussions included further strengthening of air defense, particularly for protecting southern regions and the grain corridor. They also discussed the supply of artillery and long-range missiles.
"Thanks to Chancellor from me, please. Best regards to him and his team, all of the team, and of course to your people! We have a feeling of people's support, the support of society. Thank you so much," added Zelenskyy.
Visit by Baerbock
Today, on September 11, the Minister of Foreign Affairs of Germany, Annalena Baerbock, is in Ukraine for an official visit. She has already met with the Ukrainian Foreign Minister, Dmytro Kuleba, and announced new assistance to our country for winter preparations.