Emily Hand from Kibbutz Be'eri, believed dead, is in Hamas captivity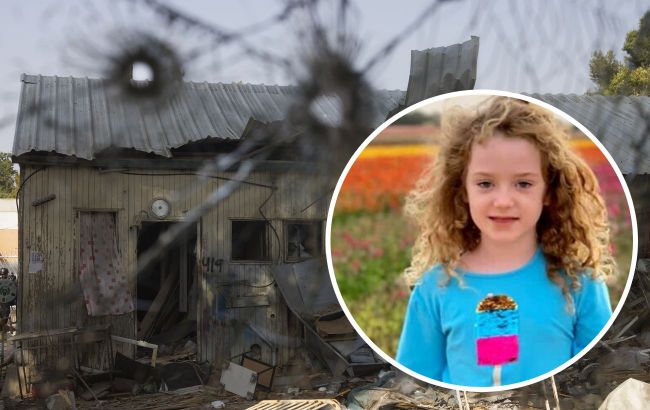 Emily is likely alive and in Hamas captivity (RBC-Ukraine collage)
Emily Hand, the 8-year-old girl from Kibbutz Be'eri who was believed to have died in the October 7 Hamas attack, may be alive. Israeli authorities recently informed her grieving father that Emily is likely being held hostage by Hamas, according to The Times of Israel.
Emily's story from Kibbutz Be'eri

On the night of October 6-7, Emily stayed at a friend's home. She couldn't leave before her dad came to get her the next morning because Hamas militants invaded Kibbutz Be'eri. On that day, they killed over 120 residents and abducted some.
Emily's father, Tom Hand, who had migrated from Ireland 30 years ago as a volunteer, planned to remain in the nation for a few more months. Fate kept him in Kibbutz Be'eri for an extended period, where he married, raised a family, and became a widower when Emily's mother died of cancer years ago.
After being evacuated from his residence along with other citizens, Tom fretted for several days about Emily's safety, worried that she might have been taken hostage by Hamas. When he learned that the child was likely deceased, he breathed a sigh of relief, stating that it was a blessing.
"They just said, 'We found Emily, she's dead,' and I went, 'Yes' and smiled, because that was the best news of the possibilities that I knew," said Tom.
The photo of 8-year-old Emily and her father's statement garnered global attention, prompting widespread sympathy for their situation.


Most likely, 8-year-old Emily is alive (Photo: Courtesy)
Emily is still alive
According to Emily's older sister, Natalie Hand, the family recently received a message indicating that the girl is alive and is believed to be held hostage in the Gaza Strip.
"We were told that she had been murdered. We were in mourning. Then, on October 31, they told us that it was highly likely that she had been abducted," Natalie said.
Emily, her friend, and her mother, who the girl stayed with that night, are likely being held captive by Hamas. Although they were initially reported as deceased, the latest update suggests otherwise.
Emily holds Irish citizenship, and the Irish authorities have committed to assisting the family in any possible way.
Natalie delivered a live message to her sister and the other hostages: "I want to tell you that we are doing everything to get you home. We know you are being held hostage. We love you so much and miss you."
Earlier, we shared information about Emily, an 8-year-old girl, and her father who were residing in Kibbutz Be'eri, Israel, during the Hamas attack.