6 cozy fall movies for cold evenings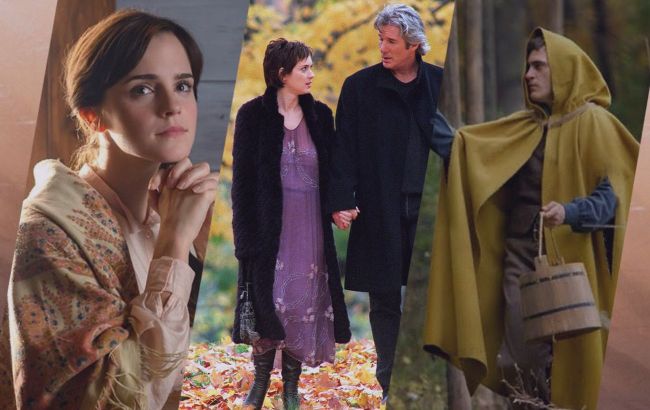 RBC-Ukraine collage
Fall is quite a romantic and cozy season when people usually love to watch atmospheric movies in the evening. But there are so many of them that the choice takes a lot of time, that's why RBC-Ukraine prepared a list of movies for cozy evenings.
To prepare the list, Kinorium was used as a source.
Autumn in New York
He fell in love for the first time, she fell in love forever. That's how the creators describe the plot of this movie. At the center of the story is a confirmed bachelor Will Keane, who is the owner of a restaurant. He loves his work, but never truly fallen in love with a woman. One day, he meets a younger woman named Charlotte Fielding, and he becomes obsessed with her.
Little Women
The plot tells the story of four sisters who are all very different from each other. Their names are Meg, Amy, Beth, and Jo. One of them dreams of a theatrical acting career, another adores painting, and the third one is passionate about music. But Jo stands out the most - she can't stand the stereotypes of traditional love and strives to challenge them.
Mr. Morgan's Last Love
Having lost his beloved wife several years ago, Professor Matthew Morgan lives a solitary life until one fine day he meets a young girl named Pauline. She is a dance teacher. A friendship grows between these two people from different generations, benefiting them both. These unusual relationships reveal what is hidden deep inside.
October Sky
This movie is based on real events. The story revolves around high school student Homer Hickam, who was born in a small town called Coalwood, located in West Virginia. He learned about the launch of a satellite and dreams of space. Therefore, he decides to build his own rocket.
The Village
In the woods of a small village, dangerous creatures live, those whose names should not be spoken. Therefore, the local residents avoid disturbing the peace of these creatures. But one day, a resident of the village, Lucius Hunt, needs permission from the elders to go to the town for medicine for his son, and they refuse. After the death of the little boy, the peace between the worlds is disrupted.
Knives Out
At the heart of the story is the detective named Benoit Blanc, who is investigating the murder of the famous novelist Harlan Thrombey. The detective has to unravel the tangle of false leads and deception to identify the killer.