12th EU package of sanctions against Russia: Work in progress, but no exact timeline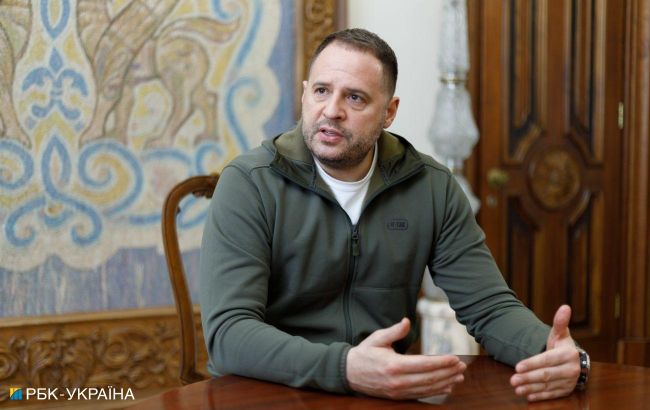 Head of the Office of the President of Ukraine Andriy Yermak (RBC-Ukraine, Vitalii Nosach)
Ukraine and its partners are working on the next 12th package of sanctions against Russia, as the head of the Office of the President of Ukraine Andriy Yermak tells RBC-Ukraine.
According to him, the package is being prepared, but it is currently difficult to say exactly when it will be agreed upon.
"We all understand that each subsequent package is being accepted more difficultly than it was at the beginning. This is logical because a lot has already been done. Our recommendations are provided, our priorities are known – we continue to insist on sanctions against Rosatom (Russian state atomic energy corporation)," Yermak said.
He noted that Ukraine is currently responding quickly to requests and data from the military in order to effectively prevent Russia from producing missiles and drones.
"We are very uncompromising in this regard. If we find elements that are being produced even within allied states, we openly discuss it, and our partners respond very quickly and effectively to this. Certainly, everything related to the production of Russian goods is our top priority," the head of the President's Office emphasized.
Yermak mentioned the necessity to work on new sanctions and not allow Russia to bypass the restrictions that have already been adopted.
"You can see it through specific things – during the meeting with President Erdogan and the correspondence of the NATO Secretary-General with (Russian Foreign Minister) Lavrov. Our European partners gave very clear signals in response to requests to lift sanctions on Russian oligarchs, including those related to the agricultural sector. They responded with an absolute no. This is a clear signal to proceed with sanctions policy. So, I look optimistically towards the adoption of a new package," he concluded.
EU sanctions against Russia
The EU has imposed sanctions against Russia for violating the territorial integrity of Ukraine since 2014 when the Kremlin annexed Crimea and parts of the Luhansk and Donetsk regions.
The restrictive measures were significantly expanded after Russia's full-scale invasion of Ukraine in 2022. Sanctions include a ban on the import of Russian oil, the disconnection of a number of Russian banks from the SWIFT system, and a wide range of export restrictions.
In total, since the beginning of the full-scale invasion of Ukraine, the EU has imposed 11 packages of sanctions.
Recently, the European Union extended economic sanctions against Russia. They will remain in effect for at least another six months.