100 thousand euros and up: House prices in Europe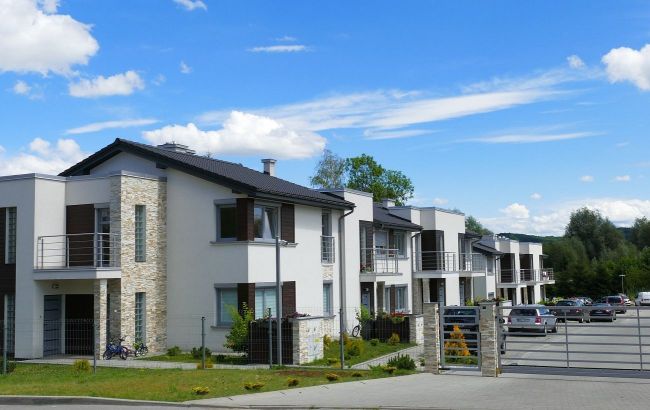 Houses in Poland (pixabay.com)
Housing rentals in Europe are steadily becoming more expensive. Meanwhile, property acquisition is becoming more accessible, with prices for houses in EU countries decreasing by 1.1% in the second quarter of 2023, according to schengenvisainfo.com.
Austria
Current housing prices in European countries are compiled from data on Statista, Immigrant Invest, and Eurostat. The average cost of a 100 sq. m house or apartment varies significantly across Europe.
For example, purchasing a new house in Austria may cost approximately €492,500. A previously built house would be priced at €373,700. The most expensive housing is in the suburbs of Vienna and the capital itself, while prices in smaller towns are lower.
Foreigners with residency permits have the right to buy property in Austria, but this permit requires a monthly income of at least €4,000.
Belgium
A comfortable 100 sq. m house in Belgium may cost around €310,200. The average price per square meter in this country is €3,102. Property prices are higher in provinces with a higher population concentration, such as Brabant, Antwerp, and Brussels, where prices reach around €4,000 per square meter.
Photo: House in Belgium (unsplash.com)
Bulgaria
This country has some of the lowest house prices – €1,650 per square meter, with a house costing around €165,000. Property prices are highest in the capital, Sofia, where a two-bedroom apartment can range from €145,000 to €180,000, and houses can cost up to €450,000.
Croatia
This beautiful country may be attractive to those who love living near the beach with a comfortable climate. It's one of the few European countries where buying property in the capital is slightly cheaper than in popular regions.
The average house price is €167,800, but the square meter of a house in Split can reach €2,985. Osijek has the lowest prices per square meter in Croatia – around €1,057.
Cyprus
Housing prices in this country are €200 per sq. m higher than in Croatia. However, property purchases in cities like Limassol, Paphos, and Famagusta can be significantly more expensive – around €3,400 per sq. m.
Photo: House in Cyprus (pixabay.com)
Estonia, Latvia, and Lithuania
Foreigners in Estonia can buy property after obtaining approval from the authorities. New houses in Estonia can be purchased for €312,000, in Latvia for €162,500, and in Lithuania for €114,600.
Finland, Norway, and Sweden
Among these three countries, Sweden has the most expensive houses (€699,200), with the square meter of new housing reaching €6,992. House prices for 100 sq. m can reach €420,400 in Norway and €518,300 in Finland.
Foreigners can buy property in Finland, except in the Åland province, as well as in Norway and Sweden. However, prices vary, with real estate being more expensive in the capitals.
France, Germany, and the Netherlands
Prices for new houses in France and on the secondary market vary significantly. For example, a new house can cost from €463,900, while existing houses can be as low as €348,900, a difference of €115,000.
According to Statista, buying new houses in Germany can cost €480,000, with the price per sq. m of existing houses reaching €3,400, a difference of €140,000.
A new house in the Netherlands costs around €357,200, while previously built ones are €54,400 cheaper, with the cost per sq. m being €3,572.
Photo: A street in the Netherlands (pixabay.com)
Greece
On average, the price of a house in Greece is €361,900. Meanwhile, the minimum investment for a golden visa in Greece is €250,000. Therefore, along with the house, investors can obtain an immediate five-year residence permit for the entire family.
Hungary, Slovakia, and Slovenia
The average housing price in Hungary is €2,515 per sq. m, while in Slovenia and Slovakia, it ranges from €1,927 to €1,593.
The capital of Slovenia, Ljubljana, may be more expensive than other cities in the country, with housing prices around €2,300 per sq. m. Similarly, the Bratislava region in Slovakia has higher prices (€2,231) compared to Banska Bystrica (€923).
Iceland and Ireland
Housing in Iceland may cost €339,000, while in Ireland, a 100 sq. m house is slightly cheaper at around €335,000. If prices in Dublin can reach €4,300 per sq. m, central cities in Iceland have prices around €3,828.
Italy, Portugal, and Spain
The renowned Italian cities Venice and Milan may turn out to be the most expensive in Italy, with housing costing €4,467 per sq. m. On average, a house in Italy can cost €189,600.
House prices in Portugal can reach €10,000 per sq. m in Lisbon, meaning a 100 sq. m house could cost around €1 million. Other regions are cheaper – for example, €833 per sq. m in Alentejo and €1,200 per sq. m in the Azores.
Spain's golden visa program is ongoing, allowing residency with an investment of at least €500,000. On average, new houses in Spain cost around €178,600.
Poland and Romania
The square meters of a new house in Poland can cost an average of €1,975 (€197,500 for a house). In Romania, new houses are on average cheaper than in Poland – around €137,000.
Foreigners in Poland must obtain permission before buying land for housing construction, while foreign citizens in Romania can buy property if they transfer ownership to resident citizens who have lived in the country for at least 183 days a year.
Switzerland
In addition to very high prices (€13,280 per sq. m), Switzerland also has many procedures for foreigners wishing to buy property there. Purchases can only be made with a special permit from municipal authorities, which have specific rules regarding the size, location, and resale permission of the property.
Czechia
A new, comfortable house in Czechia costs around €375,300. In contrast, the average cost of existing houses is about €2,570 per sq. m, meaning such a house may cost €257,000. However, in more densely populated areas, houses are €118,300 more expensive than in other regions.
Denmark
Square meters in Denmark can cost from €3,104 in new houses to €2,469 in existing houses. On average, a 100 sq. m house can cost up to €310,400.
Foreigners may find it challenging to buy property in Denmark. To have the right to buy housing in cities and coastal areas, one must have lived in the country for more than 5 years, have a residence or work permit, be a citizen of an EU country working in Denmark.