'We cannot be tired of the war': Estonian MFA Chancellor Jonatan Vseviov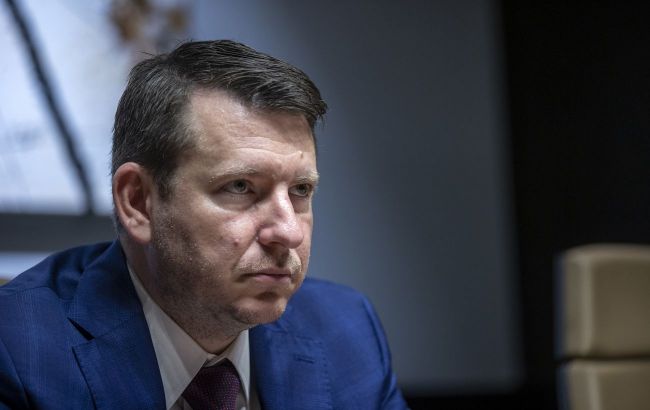 Jonatan Vseviov (Photo: Getty Images)
Estonia is one of the countries that advocate for Ukraine's interests on all international platforms. In an interview with RBC-Ukraine, the Chancellor of the Ministry of Foreign Affairs of Estonia, Jonatan Vseviov, discussed various aspects, including Ukraine's potential NATO membership, global fatigue from war, and changes in EU assistance.
On the world's fatigue from the war in Ukraine
According to Jonatan Vseviov, the world cannot afford to grow weary of the war in Ukraine and, in general, the global challenges it faces. He believes that the narrative of war fatigue is misleading. Estonia, like other allies of Ukraine, feels the impact of the war on its economy and social sphere, but it is only a shadow of the impact felt by Ukrainians themselves.
The war in Ukraine and its consequences resulted from the decision of Russian President Vladimir Putin to destroy Ukrainian sovereignty and reshape the security architecture in Europe.
"If Ukraine were to stop fighting, if the West were to stop supporting Ukraine, there would be no Ukraine, there would be no European security architecture. If Russia were to stop fighting, there would be no war. So we need to make sure that Russia understands that it is indeed in their long-term interests to change course, pull back, stop this aggression, and help restore normal order in Europe, including reconstructing Ukraine in the future."
Regarding whether the challenges, including the war in Israel, will affect assistance to Ukraine, Vseviov believes that the alliance formed around Ukraine consists of the world's strongest states. Therefore, they can and should respond to several challenges simultaneously. Moreover, when it comes to the threat to freedom, it is imperative to react.
Jonatan Vseviov (Photo: Getty Images)
"There is a Korean War Veterans Memorial in Washington, D.C. that has the words 'Freedom is not free' on it, referring to all those who died in that particular war, defending freedom, not just in Korea, but defending freedom as such. Freedom has never been free. It wasn't free for those who fought to gain independence for Estonia in our war of independence between 1918 and 1920, it's not free today. So yes, we need to be able to handle all of the problems at the same time," added the Chancellor.
On the Russian trace in the war in Israel and anti-Ukrainian positions of European and American politicians
What is happening now in Ukraine and Israel helps tyrannical countries undermine democracy worldwide. The main thing is to avoid escalating the conflict in the Middle East. Jonatan Vseviov hopes that Russia, in particular, understands that a military explosion in the world is not in its interests.
"If they assume that democracies are weak, that the West will back down, lose focus, and lose unity, they are making a fundamental mistake," Vseviov added.
Even though the U.S. House of Representatives elected Mike Johnson, who has a somewhat skeptical view of Ukraine, Vseviov believes that the foreign policy of the United States is and will be directed against military aggression and for democracy.
"I'm personally convinced that Western support for Ukraine will continue no matter the domestic political developments in each of the countries, including the United States," Vseviov added.
The diplomat also commented on the anti-Ukrainian position of the Prime Minister of Hungary, Viktor Orban, and his colleague from Slovakia, Robert Fico. In his opinion, despite differences in views among the 27 EU member states, the Union will not stop supporting Ukraine because there are more sympathizers than skeptics.
Jonatan Vseviov (Photo: Getty Images)
On Ukraine's NATO accession
Jonatan Vseviov is convinced that Ukraine will join NATO, but he emphasizes that the Ukrainian state is currently in a state of war. According to the diplomat, the question is about what will happen between these two facts – the war and the accession. "We have a number of different ideas and options, and those things are being discussed. Estonia works hard to make sure that the Ukrainian people understand that you are on a pathway," the diplomat adds.
Meanwhile, NATO accession is an unpredictable process, says Vseviov. For example, Finland is already a member of the alliance, while Sweden is not yet, even though they submitted their application practically simultaneously. In Ukraine, the situation is more complicated due to the war.
"Do not lose hope. Hang on to what we've said officially, which is that you will be a NATO member. Keep on doing what you can to demonstrate that you will be ready to join," Vseviov adds.
On Russia's plans regarding Ukraine and the world
According to the Chancellor of the Estonian Ministry of Foreign Affairs, Russia seeks to change the European and global order by destroying the sovereignty of countries located on the borders with Russia. In this way, the Kremlin hopes to change spheres of influence and establish those that existed before. Regarding whether there is a threat to Estonia from Russia, in Jonatan Vseviov's opinion, as long as the Estonian state is in NATO and the EU, Russia will not encroach on its sovereignty.