Illia 'Gandalf' Samoilenko: Our future impossible without mandatory service for all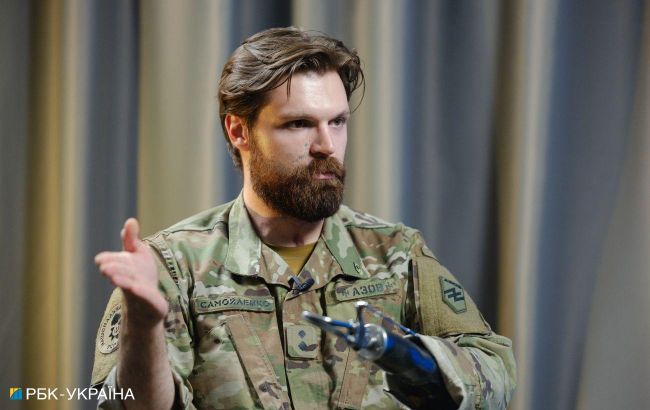 Illia 'Gandalf' Samoilenko (Photo: Vitalii Nosach, RBC-Ukraine)
Illia Samoilenko, with a callsign 'Gandalf,' is an officer of the 'Azov' brigade. Since 2015, he has been serving in the military, and during the full-scale invasion, he held the defense of Mariupol. Following orders, he and his fellow soldiers eventually surrendered to captivity. Watch the exclusive interview with "Gandalf" on the RBC-Ukraine YouTube channel. Below, we present the key highlights from our conversation.
On the decision to join Azov
I joined the Azov battalion in January 2016. At that time, Azov was popular but among the motivated. It was a group of like-minded individuals who understood the significance of the events unfolding. I made the choice to serve because, as a famous philosopher once said, "every generation must experience its own war." This was our chance to finally break free from the Russian oppression that had persisted for centuries.
By closely studying history, one can see how Russia continually sought to annihilate us, and it continues to do so even now. It was a simple decision for me back then because I was with a group of friends who shared the same beliefs, and together, we decided to enlist. Prior to 2015, we underwent rigorous training and preparation because we knew the importance of being ready during such times.
The logical continuation of the skills acquired was military service. Utilizing these skills for the benefit of society means being an active citizen with the right stance and approach, not just in words but in real actions. That's when I joined the unit called "Azov," which offered me tremendous career and personal development opportunities.
It is a place for individuals who can effectively apply their skills, talents, and natural abilities, and it encourages growth. No one suppresses that talent or drive; instead, the healthy initiative is supported. The commanders at all levels are reasonable people, as evaluating a person's capabilities is a top priority for assigning them to a position.
Our personnel policy is based on expert authority principles. Everyone is in their rightful place, and everything functions as it should. Transparency has always been a cornerstone of our media activities in Azov. Our system is clear and transparent, and that's our greatest advantage.
By visiting our resources, one can easily find out the path a recruit will take through all stages of becoming a serviceman. If you consider yourself worthy, there are no obstacles. We have a diverse range of people serving with us, united by their motivation and dedication. This diversity is fundamental in building a quality and effective unit. The efficiency of Azov's training approach has been demonstrated in previous battles, including the decisive battle for Mariupol.
On returning to Azov before the Russian invasion
I left in May 2021 to start civilian life. However, 2021 was a year of anxiety as the Russians massed troops, then withdrew them, and played games with us. The population was prepared for any scenario. A few months before the full-scale invasion, I understood that this reality was inevitable. I knew I would end up with the right people at the right time in the right place.
I knew the unit needed me, and I needed the unit. We were a well-coordinated team. On February 20, I arrived in Mariupol and returned to my comrades, as did many of our veteran reservists, those who later arrived by helicopters, and those who managed to break through to the besieged city in early March. We all knew where we belonged and where we had to be.
What helped to defend Mariupol for so long
The dedication of our fighters, unity within the team, and discipline were crucial factors. Everyone followed the orders of Commander Denys Prokopenko and continues to do so. Discipline is the foundation of the army, effective units, and essential for commanding a unit. Command authority sustains strict discipline, which cascades down the ranks. Everyone understands their role in battle and their tasks, and they execute them responsibly and devotedly.
What veterans of Azov do after injuries and capture
A high percentage of our members remain in active service despite injuries or trauma. Nearly everyone wants to stay and continue serving. After Mariupol and captivity, our experienced personnel hold not only instructor positions but also make up the entire command and officer staff, including battalion and company commanders. They are experienced leaders who know how to handle various situations, even the most dire ones.
Being injured or captured does not limit a person if they have strong motivation. The value a person brings to the battlefield is directly related to their training and experience. We do not look back; we are here, were here, and will be here!
On structural changes in Ukraine's army after victory
We need a strong army. I firmly believe our future requires mandatory military service for everyone, where every citizen undergoes military training, acquires a military specialty, and is assigned a personal number and unit. They should know where they need to be within a day's notice when a state of war is declared and the possibility of a renewed Russian invasion is high. And, to be honest, that possibility is entirely real. As long as Russia remains armed, it will continue seeking alternative ways to act. We must be prepared.