Russian FSB leadership at odds with military command: Ukrainian Intelligence reveals details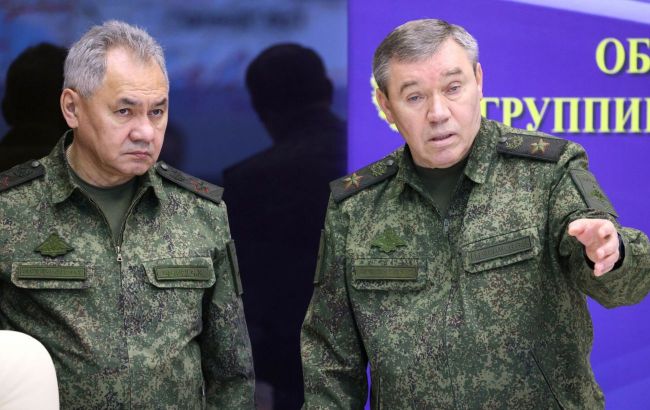 Russian Defense Minister Sergei Shoigu and Chief of the General Staff of the Russian Armed Forces Valery Gerasimov (Photo: Getty Images)
The leadership of the Russian Federal Security Service is attempting to secure the release of Defense Minister Sergei Shoigu and Chief of the General Staff Valery Gerasimov. There is a real conflict between them, according to a comment of Andrii Chernyak, a representative of the Defense Intelligence of the Ministry of Defense, to RBC-Ukraine.
According to him, the clans of the Kremlin regime in Moscow continue their internal struggle amid increasingly noticeable losses on the front and the erratic actions of the Russian dictator, who displays weakness.
"The military intelligence of Ukraine confirms the attempts of the FSB to change the leadership of the Russian Ministry of Defense. This internal conflict persists, and only one of the sides can emerge as the winner. However, it remains unclear which side will prevail in this confrontation," Chernyak stated.
He clarifies that the conflict between the FSB and the leadership of the occupying army is a continuation of the rebellion led by the founder of the private military company "Wagner," Yevgeny Prigozhin. According to Chernyak, the attempt of the "Wagnerites" to launch an armed campaign towards Moscow deepened the divisions within the Kremlin hierarchy, yet all of this is a direct consequence of Russia's aggressive criminal policies.
Chernyak reveals that the Military Intelligence Directorate (GRU) is currently closely monitoring the course of the conflict, the purges of the high command, arrests, special measures, and mysterious deaths among representatives of the aggressor state's power elite.
"It appears that the aging Kremlin leader, due to his reckless military adventure, finds himself forcibly caught between rival clans: it's difficult to sit still, and rising is painful. If any clan suddenly starts moving rapidly in the wrong direction again, the whole structure could collapse," noted the Ukrainian Defense Intelligence representative.
What preceded
Earlier, Bloomberg reported that the FSB was urging Putin to dismiss Shoigu and Gerasimov.
However, according to the article, there are currently "no signs" that the Kremlin intends to make personnel changes. At the same time, the political leadership is dealing with those who actively criticize Shoigu and Gerasimov.