Ukraine sells titanium to Russia in wartime for airplane and missiles production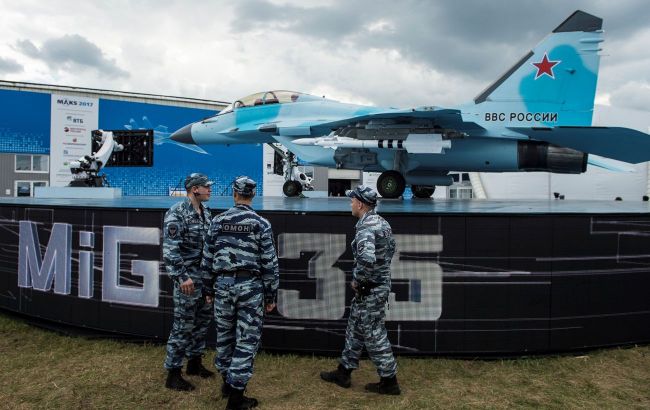 During the war, Russia continues to receive titanium raw materials from Ukraine for its airplanes and missiles (Photo by Getty Images)
The Russian defense industry continues to receive raw materials for titanium production from Ukraine. It might seem impossible against the backdrop of full-scale and overt Russian aggression. However, data obtained by RBC-Ukraine from insiders working in the titanium industry confirm that a significant portion of titanium raw materials exported from Ukraine is in Russia through intermediaries.
Ukraine holds significant reserves of titanium ores. According to the state-owned United Mining and Chemical Company estimates, 20% of the world's total resources of this raw material are concentrated in Ukraine. However, Ukraine almost doesn't manufacture metallic titanium or products from it. The concentrate gets exported, from which finished products are manufactured in other countries.
The concentrate comes in several types – rutile, ilmenite, zirconium, distant-sillimanite, and staurolite. An important detail is that the State Export Control Service inexplicably only controls the export of ilmenite concentrate, for which companies are required to obtain a corresponding permit (a so-called "ticket"). This type of raw material is recognized as having "dual-use" (meaning it can be used in the military sphere). Other concentrates are exported without any scrutiny for some reason.
The export of titanium concentrates continues even during the war. From July of the previous year to April 2023, the United Mining and Chemical Company (UMCC), which is state-owned, exported 82.2 thousand tons of ore containing titanium. According to information from sources in the titanium industry, a significant portion of this production ended up in the Russian Federation.
Mainly, batches of titanium concentrate were sold to intermediary companies in Poland, Hungary, Czechia, and Slovakia, which have Russian citizens among their founders and operate with Russia.
For instance, in July, August, and September of 2022, UMCC supplied thousands of tons of concentrate to the Hungarian company Sic Luceat Lux KFT, founded by Crimean natives Alexander and Svetlana Muradyan, who are likely proxies for other individuals.


The titanium concentrate was supplied to the Hungarian Sic Luceat Lux KFT, founded by natives of Crimea (Photo: RBC-Ukraine)
Open sources indicate that the central counterparties of this company and recipients of the cargo in 2021-2022 were LLC "Redmetkoncentrat" (Moscow), LLC "Nerudnaya Kompaniya" (Belgorod), LLC "Minko Rus" (Belgorod), and other Russian companies.
Thus, this company is a Russian conduit, and the state-owned UMCC cannot be unaware of this.
Another example is the Polish company BioProfTech Sp.z.o.o, registered in Warsaw. Its founder is Ruslan Akopyan, registered in the occupied Khartsyzk of the Donetsk region. Akopyan holds Russian citizenship. This company received batches of ilmenite from Ukraine in the summer and fall of 2022.
Polish BioProfTech Sp.z.o.o. with a founder from occupied Khartsyzsk received batches of ilmenite (Photo: RBC-Ukraine)
An even more glaring situation exists with another enterprise – the "Zaporizhzhia Titanium-Magnesium Plant" (LLC ZTMC), previously owned by oligarch Dmitry Firtash, which was returned to state ownership in 2021 through a court decision (still being executed). ZTMC is Ukraine's only producer of sponge titanium. Unlike UMCC, it exported raw materials and effectively finished products – titanium sponge, titanium ingots, tetrachloride, and titanium slag. In 2022, the plant was hardly operational, but it sold off the effects it had in storage. Around 2 thousand tons of titanium products were sold for 276.6 million hryvnias.
Among other buyers, companies from Montenegro, Austria, Lithuania, and Czechia were revealed, which are associated with Russia and have Russian founders.
In particular, Nadezda Invest D.o.o., registered in Budva (Montenegro), purchased titanium tetrachloride. Its co-founders are Sergey Orekhov and Vladislav Nechiporenko.
Czech Nadezda Invest D.o.o. bought Ukrainian titanium tetrachloride (Photo: RBC-Ukraine)
The Austrian company LL-Resourses GmbH, whose director is Russian citizen Anatoly Zaitsev from Saint Petersburg, purchased sponge titanium from ZTMC.
And titanium slag was bought in August 2022 by the Czech company Cytleon S.r.o., co-founded by Russian citizen Leonid Tsitlenok, registered in Moscow.
European companies with Russian founders bought Ukrainian titanium raw materials (Photo: RBC-Ukraine)
One could enumerate many more, but to avoid overwhelming the reader with numbers and company names, let's limit ourselves to the above examples. They are sufficient to assert that state enterprises knowingly or negligently sell titanium products to conduit firms, supplying them to Russia. The likely end users of this production are military plants, notably the world's largest titanium producer and its products - "VSMPO-AVISMA Corporation," which historically required Ukrainian raw materials and still does today. VSMPO-AVISMA's products are widely used by military plants, particularly for producing aircraft, helicopters, missiles, and other items.
The situation requires intervention at the highest level, thorough investigation, and establishing control over the export of titanium raw materials. It is unclear why the State Export Control Service does not halt titanium exports to conduit firms working with Russia. It is also difficult to explain why export permits are only set for ilmenite concentrates, while other products can be exported without control.
Undoubtedly, during times of war, the export of titanium raw materials to Russia must be halted. Therefore, the state needs to compile a list of reliable international companies to which selling raw materials would be allowed and prohibit the sale of raw materials to one-day firms and various types of intermediaries, regardless of the countries they are registered in.
Otherwise, Ukraine will continue strengthening its enemy, who declares its goal to destroy Ukrainian statehood.