Tourism boom and overbooked hotels: Money-saving tips on overseas travel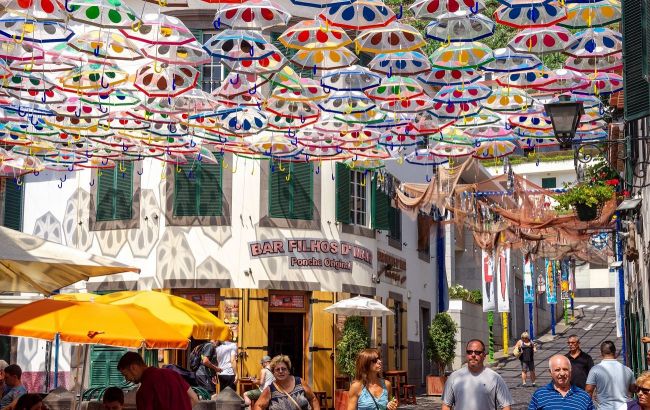 Câmara de Lobos, Portugal (Photo: unsplash.com)
"If you book a package tour with more days, it helps you save money," say tourist websites. On one of the booking services, they analyzed 400 tour packages from well-known companies and concluded that extending a vacation to 11 nights instead of 10 was cheaper in only 26 cases. In other words, in 93.5% of the offers, having a shorter vacation turned out to be cheaper. However, many still claim that booking a longer vacation can save you money.
Maryna Kazakova, a tour agent, explains RBC-Ukraine whether this is true and how to save money overall while enjoying a summer vacation abroad.
Early booking and room extra charges. How to book tours
One of the main "secrets" to saving money when purchasing a tour is early booking, according to Maryna Kazakova. She says this way there will be no need to pay additional charges for the room, and it's possible to find many good options for vacation.
"My clients, who are currently staying at the Pestana Carlton Hotel 5* in Madeira, booked their tour three weeks before departure. The room cost 1970 euros. Out of curiosity, five days before the flight, I checked the price again and saw that it had increased by 300 euros. Therefore, if my clients had booked five days before departure, they would have overpaid by 30 euros," she provides an example.
However, even when the tourists booked their vacation relatively early, the cheapest rooms in the Mountain View category were already unavailable. There were other categories available, such as pool view.
Photo: By booking a tour in advance, you can avoid additional expenses (unsplash.com)
"If the clients had approached me two months earlier, they would have been able to save $300 simply because we would have taken the first category of rooms. Unfortunately, that category was unavailable at the time of their booking. When the tourists arrived at the hotel, they were given a nice room. However, it turned out that the hotel was fully booked at 100% capacity."
"If they didn't like the room, the hotel wouldn't have been able to provide an alternative even with an additional payment, due to full occupancy. Simply put, everything was booked. The nearest room with an extra charge of 300 euros would become available in three days. It is important to understand that after the lifting of COVID restrictions, tourists from different countries have started to travel actively. Travelers from the USA, European countries, and others are all on the move. Now hotels are fully booked, so it is advisable to plan your trip in advance," notes Maryna Kazakova.
She provides another example of prices. The cost of a tour to Greece in 2021 with a 7-night stay for 2 people, including flights from Kyiv, accommodation in a hotel, "breakfast/dinner" meals, transfers, and medical insurance, was 22,889 UAH. Now, the same tour with a departure from Chișinău costs 62,926 UAH. However, additional expenses need to be considered for traveling to Chișinău from Ukraine, estimating around 6,000 UAH for a family of two for transfers.
According to her, if you see a good room option in a hotel during your tour search, it's worth booking it immediately. Otherwise, you may end up "spending part of your vacation in a room different from what you originally wanted." Moving to another room on-site after arrival doesn't always work out.
In her opinion, if you come across a good room option in a hotel during your tour search, it's worth booking it immediately. Otherwise, you may end up "spending part of your vacation in a room different from what you originally wanted." Moving to another room on-site after arrival is not always possible.
Lunches as a gift: How to find hotel promotions and discounts
If you have a specific hotel or destination in mind where you want to go, you can subscribe to social media accounts or newsletters to stay informed about various promotions.
"It can help you save. They can send you emails about 'secret' offers, and sales. For example, hotels often include complimentary dinners. Or if you had booked breakfast and dinner, they may add full board, which includes a free lunch or complimentary drinks," explains Maryna Kazakova.
Photo: By staying updated with hotel news, you can discover discounts or bonuses for travelers (unsplash.com)
However, promotions most commonly apply to overnight stays in hotels. For example, if you book 7 nights, they may provide an additional two nights as a gift. Or when booking for 14 days, you might receive a bonus of up to 5 days.
"Of course, such gifts are usually not offered for short bookings of 5-6 nights. It is not profitable for the hotel. However, for longer vacations, it is quite common," notes the travel agent.
Flexible dates: How to save half the cost of flights
Another tip when booking tours is to look at multiple dates and be flexible in your selection.
"It's very convenient and you can buy a tour at a lower price if your travel dates are flexible. I advise against only looking for a tour on one specific date. For example, just on July 19th and that's it. It's better to look within a range of plus or minus one week. It's not uncommon that a flight on July 19th costs $200, while just two days later it's 50% cheaper. So, when planning your vacation and wanting to save money, it's important to be flexible," advises the travel agent.
It's also important to consider different vacation options, not just one. This provides more choices and the opportunity to find advantageous offers.
"We calculate tours for our clients for 7 nights, 8 nights, and 9 nights. Ask your travel agent to check the prices for tours with 'breakfast only' and 'breakfast and dinner' options. For example, you may be looking at 'breakfast only,' but sometimes we find a discount with a complimentary dinner at that specific hotel. Therefore, it makes sense to calculate the maximum number of versions and options for different lengths of stay and vacation formats."
She provides some examples where tours for a longer duration cost less. 10 nights - cheaper than 9:
The price for a stay at one of the hotels for 7 nights is:
At the same time, the price for a 15-night stay is:
"I want to emphasize that some dates for a 15-night stay are cheaper than 14 nights. Also, it's worth noting that there are hotels where children can stay for free. Such promotions are often offered in hotels in Türkiye, Egypt. And may your vacation be nothing short of amazing!" concludes the expert.