Floods after Kakhovka dam collapse: risks and epidemic threats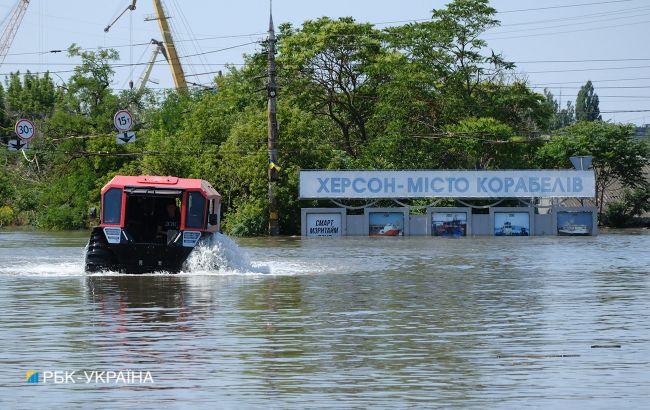 Flooded areas after the Kakhovka HPP blast (Vitaliy Nosach, RBC-Ukraine)
The Russian sabotage of the Kakhovka Hydroelectric Power Plant (HPP) dam threatens an outbreak of infectious diseases. Botulism, dysentery, and cholera are just a few of the illnesses that could arise from consuming water and fish in the affected regions. However, the Ministry of Health experts are already taking measures to reduce infection risks. Read more about the danger in the water of flooded areas, and the risk of an epidemic in the article by RBC-Ukraine.
Why the water has become dangerous
Southern regions of Ukraine are at risk of being left without clean water. The Ministry of Health warned that dangerous chemicals and pathogens could enter bodies of water and wells following the terrorist attack on the Kakhovka HPP.
As Chief State Sanitary Doctor of Ukraine Ihor Kuzin said to Ukrainian TV, there is currently a high probability of acute intestinal infections in flooded areas.
"We're talking about dysentery, possible cases of cholera, as well as the general framework of acute intestinal infections, such as staphylococcal infections," he said.
As a pediatric infectious diseases specialist, chairman of the National Immunization Technical Advisory Group Fedir Lapiy explained to RBC-Ukraine, the causes of the infectious threat are the massive spillage of water with flooding of storage places for agrochemicals, barns, and structures where cattle were kept. The villages, where outhouses are most often used for toilets, and cemeteries, are flooded.
"All dangerous substances in such places already get into bodies of water and will spread downstream if there is an infectious agent," the expert said.
Tap, bottled, or well water: what to consume
Ukraine's Ministry of Health recommends that residents of the flood-affected regions prefer bottled or artesian water for drinking. For household needs, preparing food, it is imperative to filter or boil the water.
"If there is access to bottled water, it should be preferred. Water filtration should be ensured if it is murky or dirty. Water should be stored in clean closed containers, which citizens can receive at water distribution points," the chief sanitary doctor explained.
Tap water from centralized supply systems is safer because it undergoes special disinfection. Control has been tightened in the Mykolaiv, Odesa, Zaporizhia, and Dnipropetrovsk regions. Kuzin said as of June 7, there were no changes in the quality indicators of the centralized water supply, However, in the affected areas, tap water should be thermally treated and filtered before use.
Outcomes of the Kakhovka HPP explosion: everything known as of June 7
Water from wells or boreholes in the yard has become dangerous, which is emphasized by the Ministry of Health. Expert Fedir Lapiy also notes that with the flooding, the level of groundwater has risen, so chemicals and waste products could have entered the wells. Therefore one should not use water from open sources. If there are no alternatives except water from unverified sources, the expert recommends using disinfection tablets and boiling the water.
The chief sanitary doctor said that currently, in the Kherson region, 600,000 special tablets for water disinfection have been provided for distribution to the civilian population. Also, specialists from the Disease Control and Prevention Center are working on the ground, taking water samples from bodies of water and wells.
The threat of botulism
After the water level drops in the shallowed bodies of water, a mass die-off of fish will begin. This phenomenon is already being observed in the Dnipropetrovsk region and is predicted in other affected regions in the coming days.
Collecting and preparing dead or dying fish is strictly prohibited. The Ministry of Health reminds there are no cooking methods to make such fish safe. It should not be fried, boiled, canned, dried, or jerked.
Fish from water bodies in flooded areas can be infected with parasites, pathogens, and contain chemical substances.
The biggest threat when consuming this fish is botulism. Its pathogenic bacteria produce botulinum toxin - one of the strongest known biological poisons. It is resistant to the influence of external factors, causes paralysis, and if not diagnosed in time, can lead to death. The Ministry of Health emphasizes that the country's medical system is prepared for possible cases of botulism - there is a sufficient amount of anti-botulinum serum available.
How high is the risk of an epidemic
The risk of an epidemic resulting from chemical pollution and wastewater contamination carrying infectious pathogens is high for the affected regions. However, the impact of the ongoing war also needs to be considered. Due to the military conflict and Russian occupation, this year there will be no summer vacation season in the south. Additionally, large-scale agricultural activities requiring substantial amounts of water for irrigation systems are absent, as a result of which crops from such fields could potentially be hazardous.
However, the expert believes that the real danger of an epidemic is not critical. If there was the resort season with swimmers in the Dnipro Delta, where the river flows into the Black Sea, the risk of infectious disease outbreaks would be much higher, the expert adds.
Meanwhile, Ukraine's healthcare system is preparing for possible epidemiological challenges, with medical professionals ready for any turn of events.
The chief sanitary doctor said that reserves for providing necessary medical assistance are currently available, including for the emergence of cholera cases. Each year starting June 1, cholera monitoring efforts are intensified in Ukraine, and corresponding investigations have already begun in the regions.
In areas experiencing flooding, reserves of antibiotics and treatments for acute intestinal infections are being amassed. Once water levels recede, the anti-epidemic service will implement the maximum number of preventative measures to avoid the development of acute intestinal infections, including disinfection of territories, laboratory testing of water, and purification.
"There are at least 190 healthcare facilities that should provide assistance during emergency situations. These healthcare institutions are on high alert and have at least 80% of beds free that can be utilized for emergency hospitalization of patients," Kuzin said. He added that healthcare facilities in the Kherson region have not been flooded and continue to operate.
The Ukrainian Ministry of Health has prepared a list of recommendations for residents in flood-affected areas to reduce the risks of infectious diseases. The recommendations include drinking only bottled or imported water, using water only from verified sources, and all food products should undergo thermal processing (boiling, frying, baking).