Russian preparations for attacks on Ukraine's energy: Analysis by Ukrainian Intelligence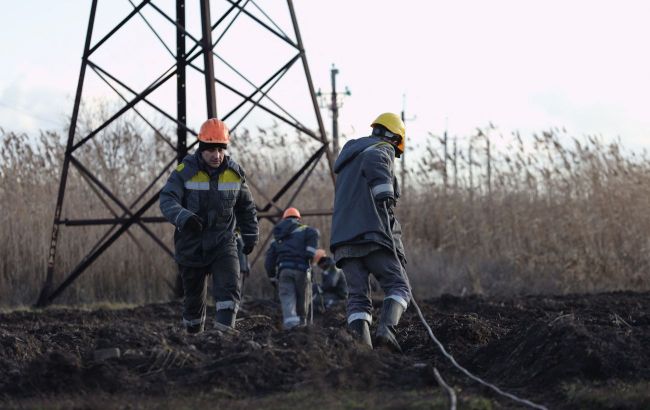 With the onset of cold weather, Russia may begin massive shelling of the Ukrainian energy system (Photo: GettyImages)
Major General Vadym Skibitskyi, a representative of Ukraine's Defense Intelligence of the Ministry of Defense, shares his insight with RBC-Ukraine on the Kremlin's preparations for potential attacks on Ukraine's energy infrastructure, as well as the stockpiles and production of Russian missiles and Shaheds.
ABOUT POSSIBLE TACTICS AND SCHEME OF ATTACKS
Currently, the weather is relatively favorable for us. It is relatively warm outside, so launching rockets in advance, as Russia did last year, starting attacks on October 10 when the weather was similar, is not rational for them. The adversary has learned from this. It is most likely that they will begin when there is a higher load on our energy system, and therefore more favorable conditions for attacks. This could happen during the onset of cold weather when electricity consumption reaches peak levels during the autumn-winter period. The Russians are waiting for temperatures to drop below zero.
The tactics and scheme of attacks are currently difficult to predict – they can vary. It could be strikes using exclusively different types of missiles, or combined attacks using both missiles and drones. However, according to military intelligence estimates, these attacks will not be as primitive as last year. It is challenging to say whether there will be more missiles or "shahids."
We understand that to achieve a cascading and more destructive effect, they need to simultaneously target all critical points of the energy system. Therefore, the aggressor is likely not to limit themselves to a single attack. For example, reconnaissance is carried out first, followed by an attack, and then the adversary assesses the achieved effect, conducts further reconnaissance, and a repeat attack may follow. It will primarily depend on the results of their attacks and the quantity of missiles and drones they will use during mass attacks.
We believe that the Russians will primarily use cruise missiles, but we do not exclude the possibility of them attacking our energy facilities with ballistic weaponry. The Kh-101, Kh-555, and Kalibr missiles will be the main striking elements.
ABOUT RESERVES AND MISSILE PRODUCTION
According to the Defense Intelligence of Ukraine, the enemy currently has approximately 870 high-precision missiles of operational-strategic and strategic levels in their reserves, capable of targeting objects over 350 kilometers away. These include Iskander-M, Iskander-K, Kalibr, Kh-101, Kh-555, Kh-22 (Kh-32), and Kinzhal. Lately, the enemy has been more actively using guided Kh-59 missiles with a range of up to 300 kilometers, primarily for attacks on military targets.
The figures were almost the same as last year. This indicates that Russia has successfully maintained missile production at a sufficient level to accumulate a reserve of missiles. It's clear that they cannot fully use all their missiles – they need to keep at least 30% in reserves. If they release almost all of them on our energy system and do not achieve the desired results, someone will be held accountable. Achieving the desired result will be difficult, as we are also preparing and understand their actions, reconnaissance, and accordingly, take measures to protect our energy system.
Currently, according to our data, the enemy may have approximately 165 Kalibr missiles in their arsenal. The total stock of Kh-101, Kh-555, and Kh-55 missiles with warheads is estimated to be around 160 units. The reserves of ballistic Iskander-M missiles and guided Iskander-K missiles amount to 290 units, Kinzhals about 80, and roughly 150 Kh-22 / Kh-32 missiles.
According to our estimates, the Russians are producing approximately 20 Kalibr missiles per month. Missile production continues, approximately 40 units of Kh-101 missiles per month. In addition, the enemy produces about 30 ballistic Iskander-M missiles and 12 guided Iskander-K missiles per month. They are modernizing the Kh-22 missiles, converting them to Kh-32. The production numbers for Kh-22 are relatively low, around 9 units per month. The effective range of a Kh-22 missile is 350 kilometers. Regarding Kinzhals, they produced 4 in October. Furthermore, the Russians have started improving Onyx missiles for use against ground targets.
Compared to the summer, Russian missile production has not significantly increased, as there are sanctions and constraints on production. Their capacity does not allow them to rapidly increase their missile stockpile.
ABOUT SHAHEDS
The Shaheds currently used by the enemy indicate that the Russians have already started assembling them on their territory. Domestic production is limited, and there are many issues related to components. The Russians also aim to improve them, such as introducing a new engine, a new navigation and control system, and creating a radio-absorbing surface to make them harder to detect.
We do not exclude the possibility of small shipments of these drones from Iran, but they have decreased. The initial contracts that were signed were fulfilled by Tehran. Currently, we do not observe a mass transfer of ready-made Shaheds from Iranian territory.
The Russians planned to produce at least 200 Shaheds per month. However, in reality, they are producing fewer. The Russian Federation only recently started increasing production, and it is mainly assembled from components supplied from Iran. Some elements are already working at the Elabuga plant. There is also a network of adjacent enterprises supplying components.
ABOUT MISSILES FROM IRAN
There have been no deliveries of ballistic missiles from Iran to Russia. The aggressor has been trying to acquire them, at least starting from the spring of last year. It appears that Iran is not interested in transferring them at this time.