Battle for Karabakh: Why did Azerbaijan take the offensive?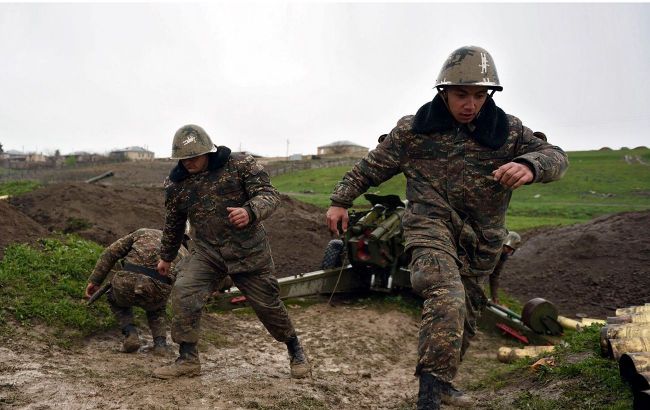 War is back in Nagorno-Karabakh (photo: Sputnik Armenia)
Iliya Kusa, an analyst at the Ukrainian Institute for the Future, explained to RBC-Ukraine why another escalation has begun in Karabakh and what Armenia, Azerbaijan, Türkiye, Russia, Iran, the United States, and Europe are pursuing.
The latest escalation in the Nagorno-Karabakh conflict on September 19 should come as no surprise. It was anticipated. The status quo that had emerged after the 44-day war in 2020 didn't satisfy Azerbaijan, Armenia, and, to some extent, Türkiye.
Armenia's leadership had already weathered a serious political crisis due to the war, and any further actions or failures could pose a political threat to Nikol Pashinyan and his team, especially considering the sensitivity of the Karabakh Armenians' fate for society.
In Baku, President Ilham Aliyev hadn't achieved the desired victory in both political and absolute terms, the kind of victory that would have definitively settled the Karabakh issue, put it to rest in history, and allowed him to emerge from his father Heydar's shadow. Moreover, Azerbaijan had been working for years to gain control over regional logistics, to open transport corridors that would enable it to gain new transit functionality and integrate into a new world order of security and trade between East and West, South and North. To achieve this, physical control over at least part of Karabakh was necessary.
Türkiye also has a vested interest, envisioning itself as the key hub where the flows of goods, services, and resources linking Asia to Europe converge. In other words, Erdogan is keen on ending the Armenia-Azerbaijan conflict in a way that secures new supply and trade routes anchored to Türkiye, even if it doesn't necessarily entail full Azerbaijani control over Karabakh. Türkiye would also accept a negotiated resolution to the issue if talks were to begin.
This differing perception of the Karabakh issue explains the main distinction between Ankara and Baku's stances. This is why the Turkish president didn't push Azerbaijan into military action and even offered mediation in peaceful negotiations before the recent escalation.
Thus, the war in Karabakh isn't just about restoring Azerbaijan's territorial integrity; it's also a battle for the political future of the Aliyev family, a struggle for regional logistics and access to trade routes, and a quest for a new role in the emerging global economic and political order. For Armenia, this war tests the post-Soviet political system which has long lost relevance and ceased to serve the interests of the Armenian society.
For Yerevan, it's not merely a war for control over Karabakh (which Armenia has never officially recognized as independent and hasn't controlled since 2020) but a fight for foreign policy freedom, sovereignty, and autonomy in regional affairs.
If Karabakh falls under Azerbaijani control, Armenia will no longer be held hostage by this issue and can assert itself more freely on the world stage. Additionally, Yerevan will gain greater independence from Russia, which has maintained its control over Armenia for decades by leveraging the Karabakh issue.
However, it would be wrong to say that the fate of Karabakh doesn't matter to the Armenian leadership. They are concerned about securing the rights of the local Armenian population, a sensitive issue for a people who have experienced genocide. Besides, Armenia must preserve its sovereignty and territorial integrity, preventing Azerbaijan from seizing even more sovereign territories, especially in the southern Syunik region, which Baku has previously laid claim to in the context of establishing logistic corridors to Nakhchivan.
Destruction in Nagorno-Karabakh (photo: Sputnik Armenia)
The current hostilities, more so than in 2020, have revealed Russia's true role in these geopolitical games. Moscow is a situational partner for Azerbaijan.
Firstly, the Russians are interested in gaining access to regional logistics and unlocking transport corridors. Their interests align with Azerbaijan in this regard. They need logistics to diversify their foreign trade, create new supply chain nodes for parallel imports, and bypass Western sanctions in the logic of a "long war" of attrition, similar to the one they believe they are waging in Ukraine. Secondly, Russia expects that Azerbaijani pressure will either force Armenia to involve itself in the war on the side of Karabakh, further entangling it in Russian mediation and security guarantees, or compel Yerevan to make concessions in negotiating a peace agreement while preserving Russian presence, or lead to the loss of Karabakh and Pashinyan's resignation amid a wave of "betrayal" allegations actively spread by pro-Russian factions of the opposition linked to the clans of former Presidents Serzh Sargsyan and Robert Kocharyan.
As of now, the United States and Europe are monitoring the situation and contemplating their next steps. In recent years, the U.S. had been trying to take the initiative in the negotiation process away from Russia. The war in Ukraine accelerated this process as Moscow was preoccupied with the war and couldn't allocate significant resources to maintain its positions in the South Caucasus. However, Azerbaijani-Armenian negotiations under Washington's mediation stalled, and now Baku is attempting to resolve the issue through force, counting on Western countries not taking any drastic measures to support Armenia, such as imposing sanctions.
As of now, EU and NATO member countries have expressed their support for Yerevan and condemned Azerbaijan, but sanctions have not yet been imposed. Many are waiting for the response of the Biden administration, which was responsible for attempting to pull Armenia out from under Russian influence.
The factor of Iran remains important, too. The country aligns itself with Armenia for the same reasons that Türkiye supports Azerbaijan: logistics. Iran believes that Baku's plans for the Zangezur corridor will cut them off from Armenian territory, restrict Tehran's access to the South Caucasus, and hinder its full integration into regional logistics through the North-South corridor project. Moreover, geopolitically, Iran sees Azerbaijan's strengthening near its borders as automatically boosting Türkiye, which is their rival in the struggle for regional leadership. Iran is also concerned about Israel, with which Baku has recently drawn closer in the military-technical field.
Although the situation is still unclear, as it is in a dynamic state, I believe the outcome of the escalation will depend on the territory seized by Azerbaijan, whether Pashinyan survives the political crisis, the conditions of the new status quo after the end of hostilities, and the actions of Iran and the United States.
These factors will influence whether Russia remains in the region and in what role or form. Moscow will do everything it can to either (a) allow a large-scale, high-casualty war to escalate, in the chaos of which it can once again present itself as a peacekeeper and necessary partner; or (b) ensure that the war ends with another freeze and Pashinyan's resignation, to replace him with a more loyal politician; or (c) negotiate with Azerbaijan and Türkiye to gain access to regional logistics if Baku takes control of the entire Karabakh region and presents everyone with a fait accompli.