Zelenskyy: Ukraine will never agree to frozen conflict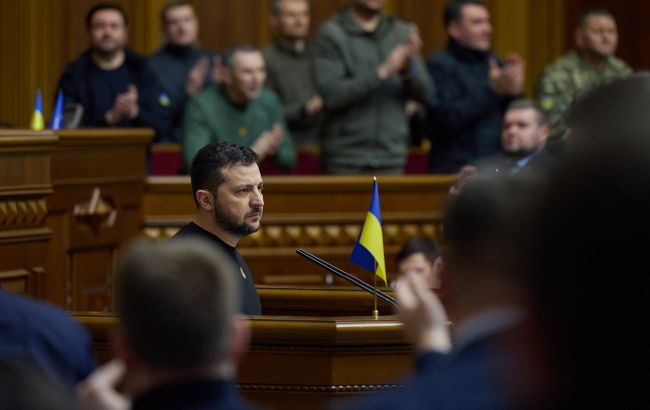 President of Ukraine Volodymyr Zelenskyy (GettyImages)
Ukraine will never agree to a frozen conflict with Russia. Instead, the country will focus on alliances and engage in dialogue regarding full membership in the EU and NATO, as President of Ukraine Volodymyr Zelenskyy said during his parliament address on the occasion of Constitution Day.
"Ukraine will never agree to any variant of a frozen conflict. None. On the contrary, Ukraine will help all other nations in the world seeking true peace with our peace formula," he said.
The president highlighted that Russia views all its neighbors as slaves and enemies.
Zelenskyy added that Ukraine has always relied on alliances. "It is evident that the world is and will be on our side. It is evident that Ukraine will strengthen the partnerships and alliances it participates. We have already historically consolidated the EU and provided it with a strength it has never had before," the president said.
Zelensky added that the Ukrainian component is what the European Union has been lacking. According to him, both Ukraine and the bloc understand that Ukraine's accession is no longer a dream but a reality. "Ukraine has obtained candidate status for EU membership. This year, we should initiate a dialogue on full membership... The same will happen with NATO, and it is not a dream, it is already a reality," the president added.
Ukraine's accession to NATO
Ukraine can join NATO only after the end of hostilities. However, the country wants a political decision regarding the support of its membership at the upcoming NATO summit in Vilnius. Zelenskyy believes that Ukraine has all the grounds for it.
Head of the Office of the President of Ukraine Andriy Yermak said that the country is waiting for an "invitation to NATO with an open date". Ukraine also seeks non-alternative to membership security guarantees from NATO states.
Ukraine's accession to the EU
Ukraine acquired candidate status for EU membership last year. However, it must meet a number of conditions to become a full member of the EU. Currently, Ukraine has fulfilled two out of the seven conditions required for admission negotiations. Deputy Prime Minister for European and Euro-Atlantic Integration of Ukraine Olha Stefanishyna believes that Ukraine will be able to initiate negotiations for EU membership as early as this year.