Zelenskyy held important Staff meeting: Details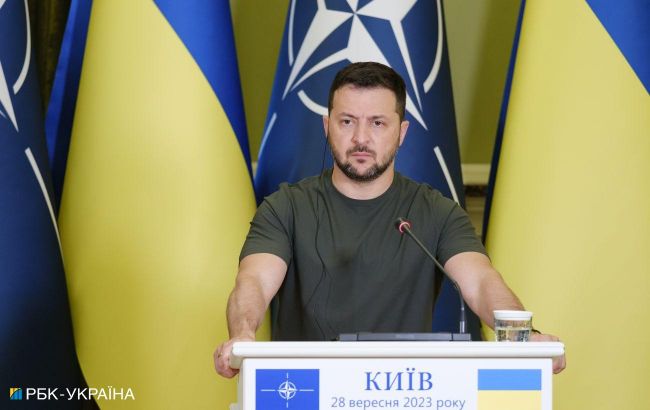 Ukrainian President Volodymyr Zelenskyy (Photo: RBC-Ukraine, Vitalii Nosach)
On Tuesday, October 31, Ukrainian President Volodymyr Zelenskyy held another "prolonged and important" meeting of the Staff of the Supreme Commander-in-Chief (military headquarters meeting). During it, several issues were discussed, according to the president's Telegram channel.
Grain corridor
As the president noted, they discussed "on the International Day of the Black Sea - the security of this region."
The following issues were also considered:
unimpeded operation of the "grain corridor";
combating enemy actions that threaten peaceful navigation;
reducing the capabilities of the enemy fleet.
Separately, according to Zelenskyy, the issue of security in the Odesa region was discussed: the protection of people, energy facilities, and port infrastructure.
"Strengthening the regional air defense system. Also, strengthening anti-aircraft defense and protection of critical infrastructure objects in border and frontline regions," he added.
Frontline situation
The situation on the front line was not overlooked during the meeting of the Staff of the Supreme Commander-in-Chief, including Kupiansk, Avdiivka, and Kherson. In this context, another critical issue of the Staff meeting was the increased domestic production of artillery systems and artillery shells of NATO standards, including partner delivery schedules.
Reports were presented at the meeting of the Staff of the Supreme Commander-in-Chief by Commander of the Armed Forces of Ukraine Oleksiy Neizhpapa, Chief of the Defense Intelligence of Ukraine, Kyrylo Budanov, Head of the SBU Vasil Malyuk, Commander of the Air Force Mykola Oleshchuk, Commander-in-Chief of the Armed Forces of Ukraine Valeriy Zaluzhnyy, Commanders Oleksandr Syrskyi, Oleksandr Tarnavskyi, etc., Minister of Defense of Ukraine Rustem Umerov, and the Minister of Strategic Industries, Oleksandr Kamyshin.