Zelenskyy explains to African media why he refuses to talk to Putin: 'He's a fascist'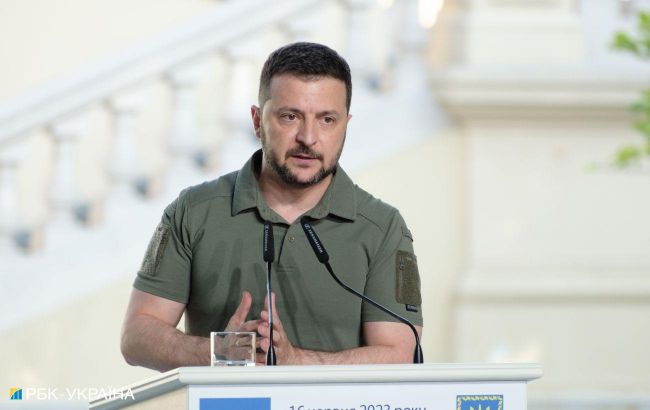 President of Ukraine Volodymyr Zelenskyy (Vitalii Nosach, RBC-Ukraine)
President of Ukraine Volodymyr Zelenskyy expressed his belief that the ongoing war will eventually come to a diplomatic resolution. However, he made it clear that he is not willing to engage in talks with Russian dictator Vladimir Putin, according to his recent interview with African media.
"Everyone was ready to accept that the war should end through diplomacy while respecting our sovereignty. But then we entered Bucha and discovered mass graves. Who is willing to negotiate with this maniac? We said that the war would end diplomatically anyway, but (we will not) talk to this person, excuse me, but his hands are covered in blood, and he doesn't care," Zelenskyy said.
He also reminded journalists that Russia has consistently claimed readiness for negotiations while its occupying forces have seized the Zaporizhzhia Nuclear Power Plant and targeted Ukraine's energy infrastructure.
"We were cut off from electricity during winter. There hasn't been a blackout on this continent for 100 years. The last blackout was under Hitler. He (Putin) is doing the same thing as Hitler. The methods of capturing Ukraine were the same as those used in fascist Germany. He did the same thing, but couldn't take Kyiv," added the Ukrainian leader.
Zelenskyy said that during the regaining of Ukrainian cities and villages, mass graves of murdered Ukrainians have been uncovered. Consequently, the number of countries seeking to push Ukraine towards negotiations with Russia has diminished.
"There are fewer and fewer people believing he (Putin) is a president, and more and more realizing he is simply a sadist. Now it's the grain initiative. Where is the army in that corridor? There's grain. Is it going to Ukraine? No. Does that affect whether there will be famine in your countries? Yes. Why is he blocking it? He's a fascist," Zelenskyy concluded.
Russia-Ukraine negotiations
During the early months of the full-scale war, several rounds of negotiations were set between the Ukrainian and Russian delegations. However, these efforts did not yield any concrete results.
Now Ukraine and Russia have not engaged in negotiations. Ukrainian authorities have emphasized that talks will not begin until Russia withdraws its military forces.
Zelenskyy has previously stated that he is not interested in holding talks with Putin.