Zelenskyy expects all restrictions on food exports to the EU to be lifted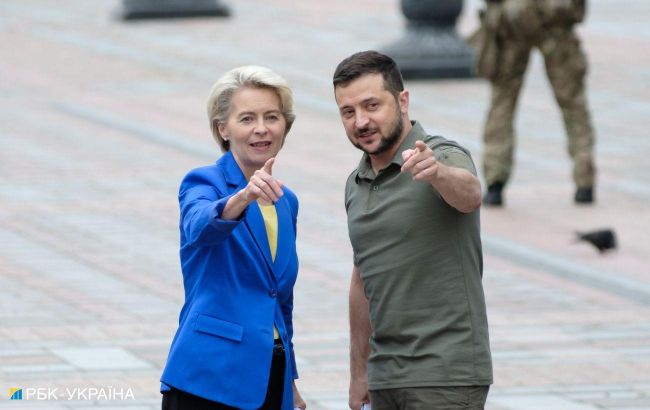 Volodymyr Zelenskyy and Ursula von der Leyen (Photo: RBC-Ukraine, Vitalii Nosach)
Ukraine expects that all restrictions on Ukrainian agricultural exports imposed by the European Commission will be lifted by September 15, said President Volodymyr Zelenskyy during a meeting with the President of the European Commission, Ursula von der Leyen, in Athens.
"It is important to restore full duty-free trade between Ukraine and the EU and ensure free access for Ukrainian agricultural exports to the entire territory of the Single Market of the European Union. I expect that by September 15, any restrictions on Ukrainian agricultural products in the EU will be lifted," he emphasized.
Zelenskyy expressed his gratitude to the President of the European Commission for the efforts to normalize the export and transit of Ukrainian agricultural products.
According to the press service, the parties also extensively discussed alternative routes for the "grain corridor" after Russia's blocking of the Black Sea Grain Initiative. Special attention was given to security, financial aspects, and ship insurance.
Zelenskyy thanked Ursula von der Leyen for the latest tranche of assistance amounting to 1.5 billion euros. The revision of the IMF program for Ukraine was also discussed.
The leaders also assessed the progress of our country in implementing seven recommendations of the European Commission and discussed further steps in this direction.
"We are committed to achieving the maximum result in implementing the recommendations of the European Commission. We are looking forward to a positive assessment in the report within the enlargement package in October, and the decision of EU member states to start negotiations with Ukraine on EU membership in 2023," said the President of Ukraine.
Food ban from Ukraine
In April, Poland became the first Eastern European country to ban importing food from Ukraine, despite the EU's decision to grant free access to Ukrainian products during the war. Later, this decision was formalized by the European Commission, which in May 2023 banned the import of Ukrainian wheat, corn, rapeseed, and sunflower seeds to Poland, Slovakia, Romania, Hungary, and Bulgaria.
The ban is in effect until September 15. However, Poland insists on extending it until the end of 2023.
The National Bank of Ukraine suggests that the restrictions on EU exports of agricultural products will remain in place until September 15 and will not be extended.