Zelenskyy and Putin to visit Turkey - Hürriyet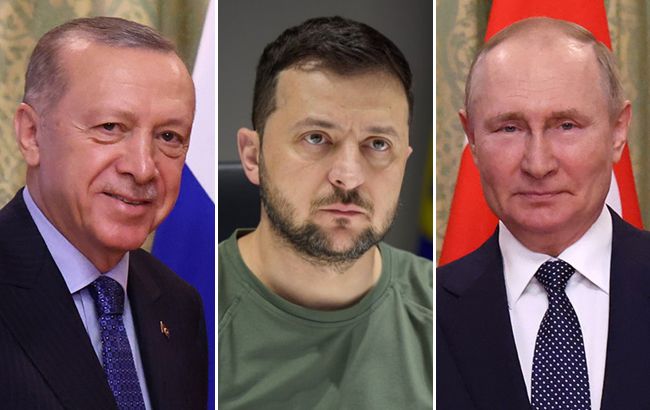 Recep Tayyip Erdogan, Volodymyr Zelenskyy and Vladimir Putin (RBC-Ukraine collage)
President of Ukraine Volodymyr Zelenskyy and the Russian dictator might visit Turkey. This will happen after the inauguration of Turkish President Recep Tayyip Erdogan.
According to a correspondent for the Turkish newspaper Hürriyet, Hande Firat, Putin will be the first to visit Turkey. This will be his first visit to Turkey since 2020.
Previously, the Kremlin leader was supposed to visit Turkey on April 27 to participate in the opening of the "Akkuyu" nuclear power plant, which was built by "Rosatom," but the visit did not take place.
The publication also reports on the planned visit of Ukrainian President Volodymyr Zelenskyy, which will be the Ukrainian leader's first visit to Turkey since the full-scale war.
According to Hande Firat, the visits will take place after Erdogan's inauguration, scheduled for June 3-4. One of the topics will be a grain deal, in which Turkey acts as a mediator along with the United Nations.
Turkey's mediating role
It is important to remember that since the beginning of the full-scale war, Turkey has actively offered its mediation to cease the fire in Ukraine.
One of the major "victories" for Ankara in its efforts was its involvement in restoring the export of Ukrainian food products, which was blocked by Russia at the beginning of the war.
It should be noted that Turkish President Recep Tayyip Erdogan has been repeatedly suggesting Turkey as a venue for negotiations between Zelenskyy and Putin.
On the other hand, the Kremlin always evades directly answering the question of readiness for such negotiations, constantly emphasizing the need for thorough preparation and "fulfillment of their conditions."
Ukrainian President Volodymyr Zelenskyy recently responded to whether he is ready to meet with the Russian dictator. He stated that it can only happen after the withdrawal of Russian troops from Ukraine.