Zelenskyy accepts credentials of new ambassadors from six countries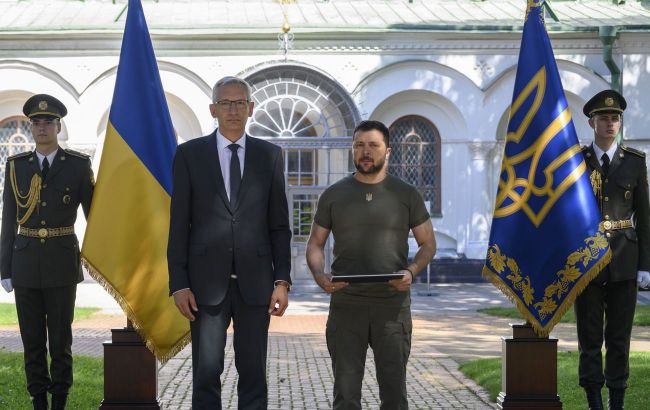 President of Ukraine Volodymyr Zelenskyy and the Ambassador of Germany to Ukraine Martin Jäger (Photo: president.gov.u)
Today, on August 17, President of Ukraine Volodymyr Zelenskyy received credentials from the ambassadors of Germany, Sweden, Indonesia, Colombia, Chile, and Peru, according to the Head of State on Facebook.
'(Received - Ed.) credentials of the new ambassadors who arrived in Ukraine. Germany, Indonesia, Sweden, Chile, Colombia, and Peru," the President wrote.
Zelenskyy also notes that he held separate discussions with each diplomat. The topics of these discussions included common opportunities and the protection of international law.
The President's Office clarifies that with the German ambassador, key priorities regarding Ukraine's defense support were discussed, while with the Indonesian ambassador, the strengthening of bilateral relations was addressed. With the Swedish ambassador, the focus was on supporting the initiation of negotiations for Ukraine's EU membership this year.
The Head of State expresses gratitude to the ambassadors for their support of Ukraine.
The presentation of credentials essentially marks the beginning of the work of the new ambassadors.
On June 21, the President of Ukraine received credentials from the ambassadors of Norway, Switzerland, Azerbaijan, Pakistan, and Iceland.