Wagner group in Belarus can cause migration crisis in Poland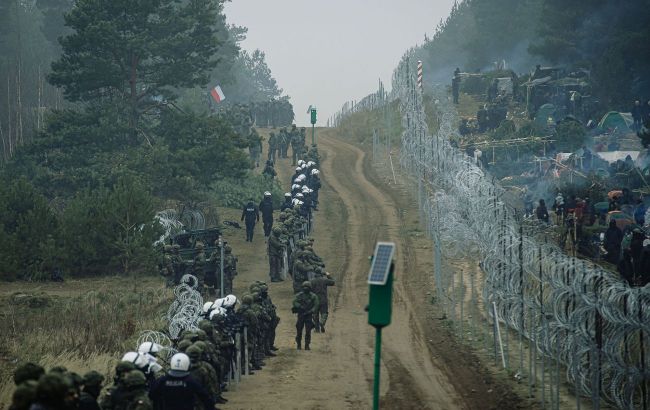 Wagner militants in Belarus may be used to create a migration crisis at the Polish border (GettyImages)
The Wagner Group mercaneries in Belarus may push migrants towards the Polish border and trigger a crisis, according to Deputy Minister of Internal Affairs of Poland, Mateusz Wonsik, as reported by PAP.
Following reports about Wagner mercenaries being deployed to Belarus, Poland anticipates that the Lukashenko regime may use Prigozhin's mercenaries to provoke incidents at the Polish border.
"These bloodthirsty mercenaries, often criminals, can perform any task. They can move within Lukashenko's circles and carry out his orders. They can also push migrants towards the Polish border," said Wonsik.
Poland's response to Wagner mercenaries' deployment in Belarus

Minister of Internal Affairs, Mariusz Kaminski, announced that due to the tense situation, Poland will deploy an additional 500 law enforcement officers to its border with Belarus. He said that they will join the existing 5,000 border guards and 2,000 soldiers already stationed there.
Polish President, Andrzej Duda, said that the purpose of the deployment of Wagner mercenaries to Belarus is currently unknown, but reinforcing the border is a normal reaction to potential threats.
Wagner mercenaries in Belarus

Prigozhin unexpectedly halted his mutiny in Russia, just 200 kilometers away from Moscow, after holding negotiations with self-proclaimed President of Belarus, Alexander Lukashenko.
The dictator promised to accommodate Prigozhin's mercenaries on Belarusian territory. Monitoring channels have reported the construction of camps where thousands of Wagner mercenaries could possibly be housed.
As of July 1, there have been no confirmed reports of the mercenaries' deplloyment to Belarus.