Victoria Beckham, Harry Styles, and other celebrities unveil their own perfumes this fall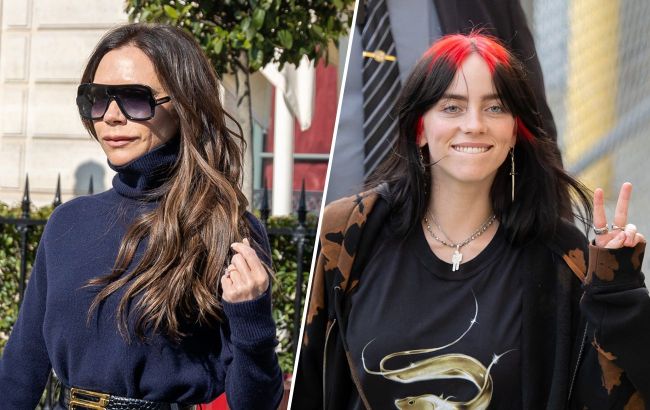 Victoria Beckham and Billie Eilish (RBC-Ukraine collage)
Hollywood stars often create their personal brand, and very often, it involves the production of clothing, cosmetics, or perfumes. Some celebrities are presenting their collections this fall.
Harry Styles
For over 2 years, the singer has been developing his own beauty brand, Pleasing. This fall, Harry decided to surprise his fans with perfumes. He is releasing 3 unique fragrances developed in collaboration with the French perfume house Robertet.
The perfume collection is named Exploration of Warmth and includes three different but iconic scents:
Bright, Hot - a vibrant and intoxicating woody-amber fragrance with top notes of plum and tobacco leaves, combined with iris oil and a marine accord. The base notes include cedar, tonka bean absolute, vanilla, and crisp amber.
Rivulets - a fragrance that aims to capture the scent of a meeting with a stranger, when time stands still. A floral and refreshing scent with notes of lemon, black Madagascar pepper, white linen, and poplin flower.
Closeness - with top notes including Australian pink pepper extract and cardamom, middle notes of iris oil, French carrot seed, and bamboo, and finishing with salty musk, Indian papyrus, and cashmere wood.
The presentation of these vegan and eco-friendly fragrances will take place on November 16.
Victoria Beckham
This fall, Victoria Beckham is presenting three unisex fragrances dedicated to her loved ones and the time spent with David Beckham. The debut fragrances from her eponymous brand are handcrafted by perfumer Jerome Epinette.
The Beckham perfumes have intriguing names:
Portofino '97 - a fresh scent aimed at romanticizing every moment.
Suite 302 - an embodiment of true glamour. This fragrance is smoky, leathery, and provocative.
San Ysidro Drive - Victoria presents this fragrance as the scent of home comfort.
Billie Eilish
For three years in a row, Billie has released one perfume per year, and this time it's the final one.
The fragrance Eilish No.3 has a blend of jasmine, pink pepper, and grapefruit with saffron undertones.
The new red fragrance from Eilish comes in an equally interesting bottle, embodying a female bust in red.
Billie's first perfume, Eilish No.1, was released in 2021, featuring a golden bust and a vanilla scent. A year later, Eilish No.2 was introduced, featuring a black bust with a peppery-citrus aroma.
Beyoncé
This fall, Beyoncé is also releasing her secret perfume, C E NOIR, with top notes of clementine and golden honey. The heart consists of rose and jasmine, and the base notes include myrrh and golden amber.
The name is no longer a secret, and the price for 50 milliliters of this fragrant water is already known - $160.
French perfumers worked on the composition, while the singer designed the bottle.