Velykyi Banderyk - Ministry of Defense demonstrates new Ukrainian-made drone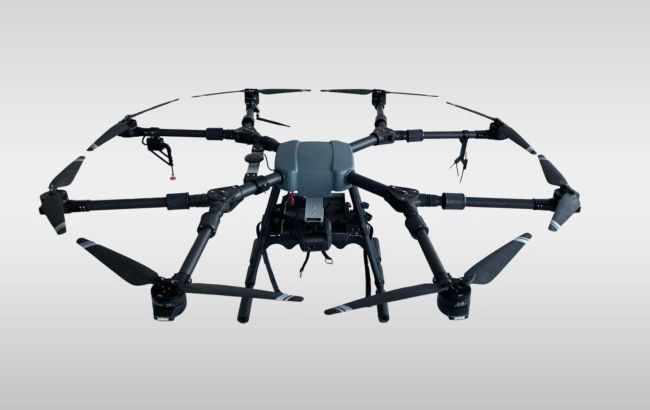 Ukrainian-made drone Velykyi Banderyk is successfully used at the front (Photo: t.me/ministry_of_defense_ua)
The Ukrainian-made military drone Velykyi Banderyk (Big Bandera) is being successfully utilized on the frontlines, the Ukrainian Ministry of Defense reports.
The Ministry of Defense highlights several critical advantages of the Velykyi Banderyk drone, which embodies advanced ideas in drone technology. Equipped with eight powerful motors, the drone ensures reliable operation. It can carry payloads of up to 31.5 kg and is ready for various tasks.
Furthermore, its multifunctional dropping system ensures precise delivery of various types of ammunition. A universal ground station facilitates remote control from anywhere in the world.
Ukrainian drone Velykyi Banderyk (photo: t.me/ministry_of_defense_ua)
"During electronic warfare (EW) tests, the domestic octocopter demonstrated excellent results: it operated successfully despite snow, gusty winds, and the operation of all EW equipment on the range," stated the ministry.
The Ministry of Defense approved the UAV for operation in April of this year.
Drone production in Ukraine
According to Minister of Defense of Ukraine Oleksii Reznikov, the Armed Forces of Ukraine have over 20 new domestically produced drone models in their arsenal.
He also noted a real drone production boom in Ukraine, partly attributed to the government streamlining procedures for developers and manufacturers of weaponry and military equipment.
The Cabinet of Ministers allocated 40 billion hryvnias this year to invest in Ukrainian drone manufacturers.