US State Department responds to Russian mining of Zaporizhzhia NPP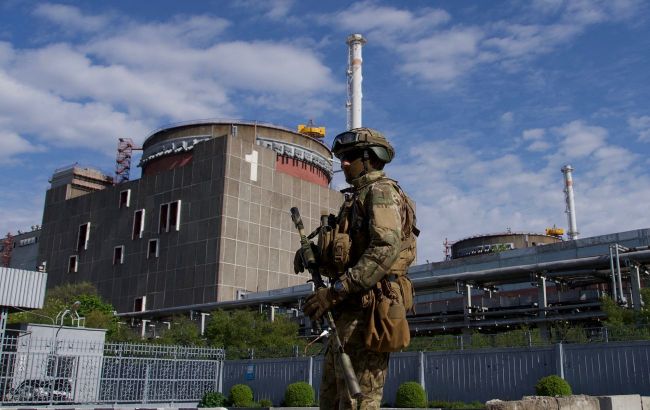 Russian soldier at the occupied Zaporizhzhia Nuclear Power Plant (Getty Images)
The mining of the Zaporizhzhia Nuclear Power Plant (ZNPP) seized by the Russian occupiers, as well as the constant fighting near the nuclear facility, pose a threat to the entire region, said the Deputy Secretary of State Vedant Patel during a briefing.
Patel has emphasized the urgent need to halt such aggressive and destabilizing activities immediately.
"Such violent and volatile type of activity in such close proximity to a nuclear power plant, in this case ZNPP, is incredibly unsafe," the State Department representative emphasized.
He commented on the U.S. position regarding the data from the International Atomic Energy Agency (IAEA) about the discovery of mines and explosives on the territory controlled by Russian forces at the Zaporizhzhia Nuclear Power Plant.
According to Patel, such a situation poses a direct threat to the entire region.
Terror threat at Zaporizhzhia NPP
Previously, IAEA experts reported the detection of anti-personnel mines on the outskirts of the Zaporizhzhia nuclear power plant site. Rafael Grossi, the Director-General of the IAEA, mentioned that the agency was aware of the pre-positioning of mines outside the perimeter of the site, as well as in certain locations inside.
Prior to this, the Chief of the Main Intelligence Directorate of the Ministry of Defense of Ukraine, Kyrylo Budanov, said that the Russians had planted additional explosives at the Zaporizhzhia NPP, specifically, on the coolers of the power plant's reactor units.
The Ukrainian President Volodymyr Zelenskyy warned about the possibility of Russian occupiers staging a terrorist attack at the NPP, which could result in a radiation release. The General Staff of the Ukrainian Armed Forces informed that the aggressors might have planted explosives on the roofs of several reactors.
Situation with Unit 4 of Zaporizhzhia NPP
Energoatom reported that on July 24th, the Russian occupiers put the fourth unit of the Zaporizhzhia NPP into a "hot shutdown" mode.
The authorities said that such actions represent a grave violation of the license requirements for operating this nuclear facility, as the operation of the reactor unit should only be carried out in a "cold shutdown" mode.