US may offer Ukraine Israeli security model at NATO summit, NYT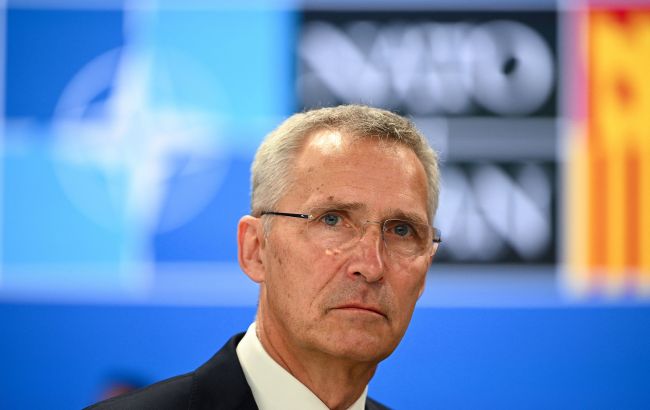 NATO Secretary General Jens Stoltenberg (Getty Images)
According to the New York Times, the United States may offer Ukraine security guarantees similar to those given to Israel, which would not include NATO membership.
NATO Summit in Lithuania

During the NATO Summit in Vilnius, President of Ukraine Volodymyr Zelenskyy will be presented with a series of commitments from member states regarding the continued supply of weapons, ammunition, and funds to the country in the medium term, regardless of the outcome of the current counteroffensive or the election calendar.
It is also expected that NATO will elevate its relations with Ukraine from the Ukraine-NATO Commission, established in 1997, to the Ukraine-NATO Council, a higher level of interaction and integration.
The question of determining Ukraine's future in the Alliance has displaced the second question of how to devise long-term security guarantees for Ukraine. Assistant to US President Joe Biden have told members of Congress that they want to move towards something similar to what they call the "Israeli model," which entails a 10-year commitment to security with the US.
Security guarantees would involve the provision of military and financial assistance packages and the possibility of joint production.
The idea behind such security guarantees is to convince Mr. Putin that the flow of weapons and training for Ukraine will not cease.
However, these are not the security guarantees that Zelenskyy wants. Those who insist on strengthening commitments to Ukraine say that only NATO membership and the protection provided through collective defense can guarantee the country's security.
The US stance

Over the past 16 months, Biden has used every opportunity to emphasize NATO's unity regarding Ukraine. In doing so, he has sought to maintain the status quo that has been upheld for over a decade: a vague promise that Ukraine will eventually join the Alliance, without a set timetable.
Now a debate has erupted among allies, putting pressure on Biden to support a significantly faster and more certain path to Ukraine's membership. All options carry significant risks for him, as his desire to prevent any rifts within NATO contradicts his staff's constant instructions to "avoid a Third World War."
Many allies, particularly those bordering Russia, want to provide Ukraine with firm political commitments regarding membership ahead of next month's NATO summit in Vilnius. Some want to establish a roadmap and specific goals for full membership, but only after the war has ended.
Only Germany has fully sided with Biden, while some of the other 29 allies have their own quiet doubts about Ukraine's readiness to fully join the Alliance and the risks of NATO countries being directly involved in a conflict with Russia in the future.
There is no consensus so far on how to strengthen commitments to Ukraine.
Presumably, the issue of Ukraine's path to membership was in focus during Biden's meeting with NATO Secretary General Jens Stoltenberg on June 13. Stoltenberg proposed a compromise offer to Biden, whereby NATO agrees that Ukraine, having tested equipment and NATO training in combat, would not need to go through the standard candidate process before joining the Alliance.
Other officials have said that this raises questions about what will replace this process, including obtaining guarantees that Ukraine, plagued by corruption and in a state of war, will not become authoritarian.
However, NATO is first and foremost a military alliance and includes numerous countries with ambiguous democratic reputations, including Turkey and Hungary.
Ukraine's NATO accession

Stoltenberg recently said that Alliance countries are not ready to agree on a date for Ukraine's accession in the midst of the war.
At the same time, he emphasized that at the NATO Summit in Vilnius, allies will express strong support for Ukraine not only in words but also in action, which includes significant military support.
Meanwhile, Zelenskyy has said that Ukraine needs security guarantees from the West, clear and documented on paper.