US and India unite for Ukraine's post-war recovery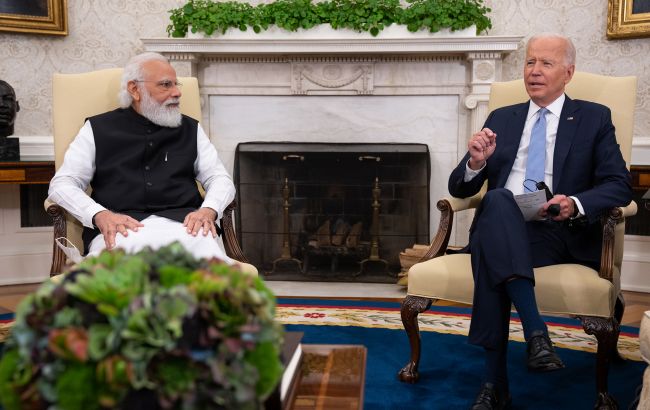 Biden and Modi agree to participate in Ukraine's recovery (GettyImages)
President Joe Biden of the United States and Prime Minister Narendra Modi of India have agreed to jointly participate in the post-war recovery of Ukraine, the White House press office reported.
In a joint statement, the United States and India declared themselves to be close partners. Both countries emphasized the importance of upholding the international order based on rules. They also noted that the contemporary global order is built on the principles of the UN Charter, international law, and respect for the sovereignty and territorial integrity of states.
Both leaders expressed deep concern over the war in Ukraine and condemned its tragic humanitarian consequences, highlighting the serious impact on the global economic system, including food, fuel, and energy security.
Additionally, Biden and Modi pledged to continue providing humanitarian aid to the people of Ukraine and agreed to work together on the country's reconstruction.
The statement said that both countries remain committed to providing humanitarian assistance to the people of Ukraine. They called for respecting the international norms of law, the principles of the UN Charter, territorial integrity, and sovereignty. Both the US and India agreed on the importance of post-conflict reconstruction in Ukraine.
Biden and Modi meeting
The Prime Minister of India is on his visit to the United States, during which the White House hopes to strengthen its alliance with India as a counterbalance to China and Russia.
During the visit, the politicians discussed military and economic cooperation. As a result of the negotiations, General Electric company signed a contract to produce jet engines in India. Additionally, the White House is pushing India to purchase a large batch of unmanned combat drones.