Unusual case with color screen released for iPhone: First photos and videos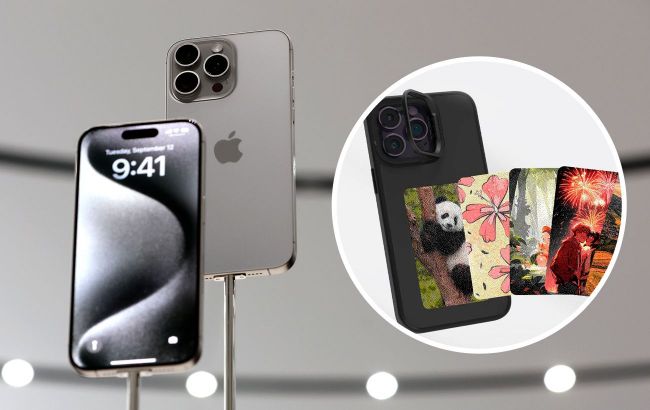 Case with a color screen for iPhone (Collage: RBC-Ukraine)
A Japanese company specializing in electronic ink devices has introduced its new product - the Reink Case C1 for iPhone, equipped with a 3.7-inch E-Ink screen, according to Reinkstone company's website.
What is known about the unusual case
Through the special Reink program, you can display any image of your choice on the case's screen.
Notably, this case became the world's first device to use four-color ink, providing a more realistic image display than competitors using three-color ink.
Reink Case C1 for iPhone (Photo: Reinkstone)
The case has a design and feel as if you are holding a regular iPhone, thanks to the use of matte glass, similar to what is used in the iPhone 15, and metal buttons.
There are no magnets inside the case, but it is thin enough to support MagSafe charging.
Reink Case C1 for iPhone (Photo: Reinkstone)
The smartphone's display and rear cameras are covered by the edges of the case from both sides. The camera protection is functional: you can raise the frame and use it as a stand (up to 115 degrees).
Reink Case C1 for iPhone (Photo: Reinkstone)
One of the important advantages is that the case does not require charging. All data transfer and power supply operations are carried out through NFC, and the energy consumption is so low that it has virtually no effect on the smartphone's battery life.
The Reink Case C1 is suitable for all models of iPhone 13, 14, and 15, except for the iPhone 13 mini. The price is the same for all versions and is $79.
You can order the case on the manufacturer's website, but at the time of publication, all options have already been sold out, and the release dates for new batches have not been announced.