UNESCO mission arrives in Odesa to assess consequences of Russian attacks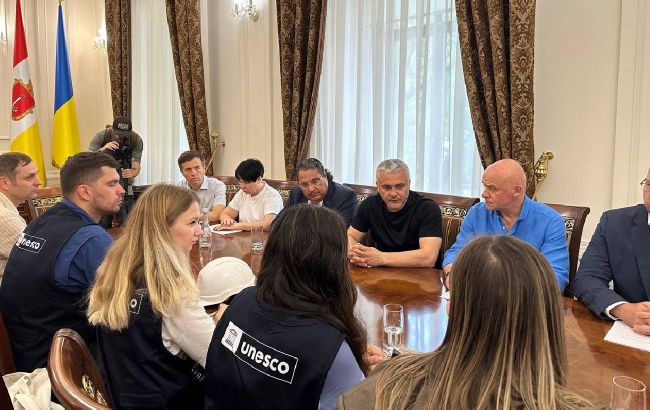 A UNESCO mission has arrived in Odesa (Photo: t.me/odeskaODA)
On Saturday, July 29, a UNESCO mission arrived in Odesa. The experts will assess the damage caused to the city by Russian attacks, according to the head of the Odesa Regional State Administration, Oleh Kiper, on Telegram.
Today, the local authorities held a meeting with representatives of UNESCO. The experts will work in Odesa for four days, documenting and assessing the consequences of the attacks by Russian terrorists.
"They have arrived in Odesa on a mission to conduct a comprehensive assessment of the damage to cultural and religious sites caused by missile strikes carried out by Russia from July 19 to July 23," the statement said.
Photo: A UNESCO mission has arrived in Odesa (Photo: t.me/odeskaODA)
The Shelling of Odesa
After exiting the "grain deal," Russia began shelling Ukrainian ports. Odesa, including its historical center, also came under attack.
The most massive strike occurred on the night of July 23. During that time, the occupiers launched 19 missiles of various types, of which only 9 were successfully intercepted.
Russian missiles hit the historical center of the city, damaging over 20 historical landmarks, including the partially destroyed Spaso-Preobrazhenskyi Cathedral.