UN proposes Putin SWIFT access for grain deal prolongation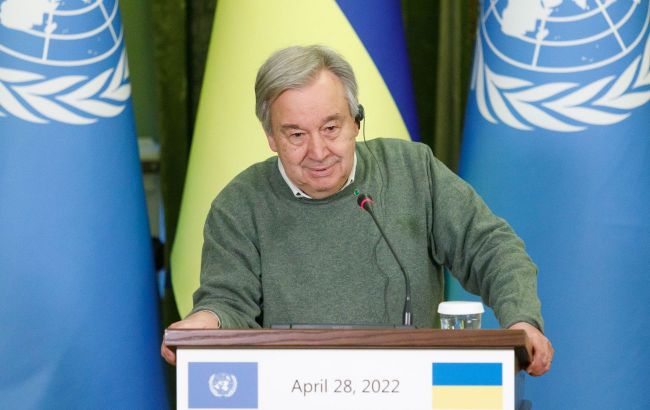 UN Secretary-General Antonio Guterres (Photo: Vitalii Nosach/RBC-Ukraine)
According to Reuters, UN Secretary-General Antonio Guterres has proposed that Russian President Vladimir Putin connect the sanctioned Russian Agricultural Bank (Rosselkhozbank) to the SWIFT system in exchange for extending the grain deal.
Agency sources say that Guterres suggested to Putin that Russia should extend the operation regarding Black Sea grain for several months, allowing the EU time to connect the subsidiary of Rosselkhozbank to SWIFT.
Guterres sent a letter to Putin, in which he proposed ways to further ease Russian food and fertilizer exports and ensure the continuation of Ukrainian grain supplies via the Black Sea, said a UN representative on the eve of the announcement.
"The objective is to remove hurdles affecting financial transactions through the Russian Agricultural Bank, a major concern expressed by the Russian Federation, and simultaneously allow for the continued flow of Ukrainian grain through the Black Sea," said UN spokesperson Stephane Dujarric.
He did not provide details about the proposal but added that Guterres is engaging with all relevant parties on this issue and is ready to continue discussions with Russia.
Grain deal
In July of last year, the UN and Turkey acted as mediators in the Black Sea Grain Initiative between Moscow and Kyiv to help address the global food crisis exacerbated by Russia's invasion and the blockade of Ukrainian Black Sea ports.
Moscow threatened not to extend the agreement after July 18 unless a number of demands, including the removal of obstacles to the export of Russian grain and fertilizers, were met. Russia insists on resuming the supply of ammonia through a pipeline in Ukraine to the Black Sea port of Odesa, which has been idle since last year.
Earlier, the Financial Times reported that the European Union is considering the possibility of agreeing to Moscow's request by allowing the sanctioned Rosselkhozbank to create a subsidiary that would be connected to SWIFT.