Ukrainians' choice of destinations for autumn trips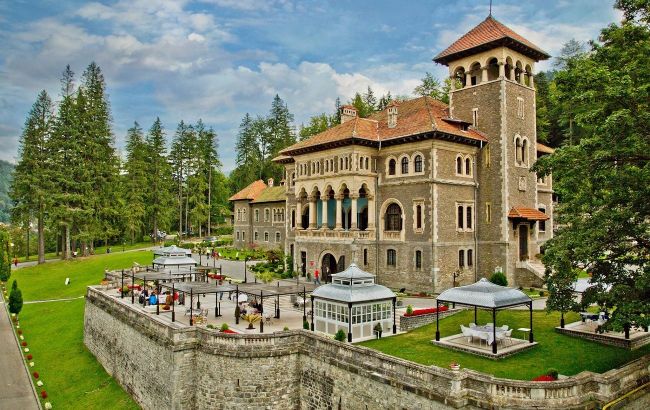 Cantacuzino Castle in Romania (photo: facebook.com/castelulcantacuzino)
Despite the ongoing war, Ukrainians continue to travel. With the arrival of autumn, it's the season for excursion tours to Europe, often involving women and children, shares Volodymyr Hayduk, the head of the tourist company Adriatic Travel.
Demand for tours to Europe is three times higher than before the war
Bus tours to Europe are gaining increasing popularity. According to Volodymyr Hayduk, the demand for such trips is twice as high this year compared to the previous year and three times higher than before the war and pandemic. The company has started organizing more departures to new destinations, including Spain and Scandinavian countries.
In the autumn, many children's school groups are traveling to amusement parks, including Disneyland (France), Europa Park (Germany), Asterix (France), and Energylandia (Poland).
There is also a significant increase in tours to Italy, France, and Switzerland, as many women take vacations and go on trips. Popular among budget travelers are destinations like Prague, Vienna, and Budapest. Leading up to Halloween (October 31), many people want to visit Transylvania in Romania, inspired by the "Wednesday" series.
Tours to neighboring countries typically last 3-4 days, while trips to France, Switzerland, Italy, and similar destinations span around 6 days.
"The most popular autumn destinations are France and Italy. Paris always attracts tourists. Many people travel to Italy because of the great weather; it's still warm. Visiting Venice, Rome, and Florence in the summer can be challenging due to the heat. For those who want to explore historical sites and art galleries, this is the "golden season"," says the expert.
Photo: Tourists in Paris (pixabay.com)
Tourists are also showing interest in Prague, with 3-4 tours departing every week, offering excursions in the city. There are even one-day weekend tours.
"Nowadays, when people travel abroad, they want to explore the country more thoroughly. While day trips were popular in the past, many tourists now opt for 7-8 day tours. There are more tours that don't require overnight travel," he points out.
How much do guided tours cost in the autumn of 2023
According to Volodymyr Hayduk, the cost of tours has increased by up to 10% since last year. This is due to the rising prices of hotels in Europe and fuel. However, children and military families can often travel with discounts of 10-15%.
This autumn, the cost of bus trips to Europe starts at 100 euros (for a tour to Budapest), while tours to France and Italy begin at 380 euros.
For example, a 4-day trip to Transylvania in Romania costs an average of 140 euros. This tour includes visits to Kantacuzino Castle, made popular by the series "Wednesday," Dracula's Castle in the village of Bran, Peles Castle, Rasnov Fortress, and the thermal water park in Brasov. Meanwhile, a tour to Prague averages around 130-140 euros.
A trip to Paris starts from 350 euros. Excursions to Italy begin at 260 euros. An 8-day vacation in Spain and France will cost you at least 450 euros.
Photo: Tourists in Barcelona (pixabay.com)
On the other hand, a trip to Ireland through Germany, Belgium, and France, which lasts for 11 days, will cost you from 830 euros.