Ukrainian President, Swedish PM agree to cooperate for both countries' NATO membership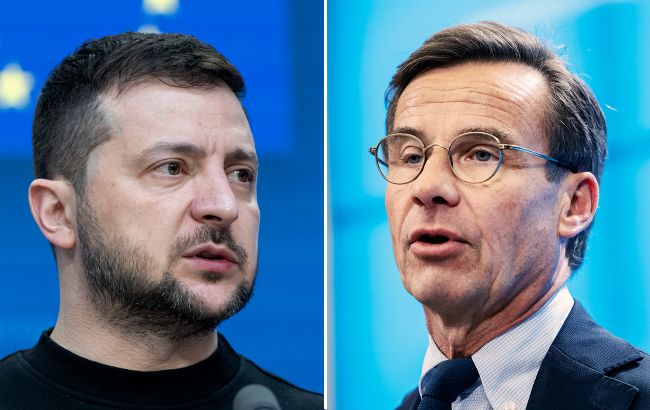 President of Ukraine Volodymyr Zelenskyy and Prime Minister of Sweden Ulf Kristersson (RBC-Ukraine)
During a phone conversation, the leaders discussed the situation on the battlefield in Ukraine, recent events in Russia, as well as the progress of previous agreements regarding defense support from Sweden.
"The parties agreed to coordinate efforts to bring NATO membership closer for both countries," the statement reads.
Zelenskyy thanked Kristersson for "Sweden's effective six-month Presidency of the Council of the European Union and active participation in the preparation of two sanctions packages against the aggressor state."
Sweden's accession to NATO
Sweden and Finland submitted their applications for NATO membership last year. Membership applications need to be approved by all NATO members, but Turkey and Hungary have been delaying their approval for a long time. Eventually, Finland joined NATO, but Sweden did not yet.
Turkey has repeatedly stated that Sweden must take additional steps against supporters of the banned Kurdistan Workers' Party and members of the network that Ankara holds responsible for the attempted coup in 2016.
Ukraine's accession to NATO
Ukraine wants to join the Alliance after the war with Russia ends. However, the country seeks to obtain a political decision regarding support for its accession at the Alliance summit in Vilnius.
Head of the Office of the President of Ukraine Andriy Yermak said that the country expects an invitation to NATO with an open date.
Furthermore, Ukraine also wants to receive security guarantees from NATO allies, which cannot be an alternative to membership. The Alliance is already considering several options.
UK Foreign Secretary James Cleverly believes that Ukraine could join NATO following the scenario of Finland and Sweden, without a Membership Action Plan.