Ukrainian polar explorers show photos of their curious 'assistants'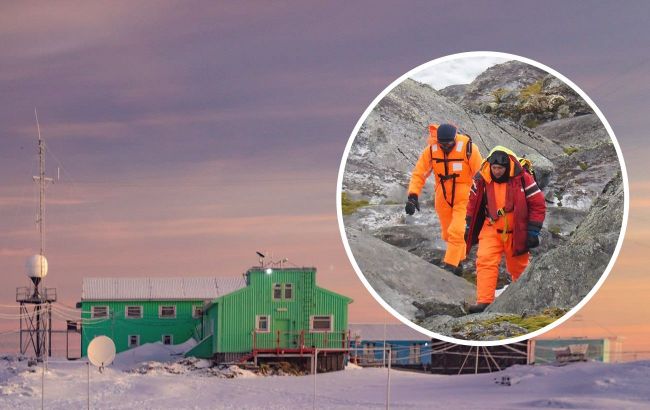 Ukrainian polar explorers at the Akademik Vernadsky station show their "assistants" (RBC-Ukraine collage)
Ukrainian polar explorers at the Akademik Vernadsky station showcased their constant "assistants" who always keep an eye on their work. We are talking about birds - white-faced petrels, which are fond of the ozone office hatch, according to the National Antarctic Scientific Center.
How the birds "help"
The ozone office hatch is located above the Dobson spectrophotometer, a device used by researchers to measure the ozone level in the atmosphere. Before starting work, the ozonometerist must open the hatch to allow sunlight to reach the spectrophotometer.
However, sometimes it doesn't take more than a few minutes for the birds to arrive and oversee the measurements to ensure that the scientist is doing everything correctly. Scientists jokingly say that the white-faced petrels perform a very responsible job at the station.
About the birds
White-faced petrels are generally very curious. They have several nests near Vernadsky station and are constantly interested in the lives of expedition members, often peering into their windows.
These birds are also often in constant search of food, trying to taste anything that comes their way.
"Polar explorers sometimes joke that if the petrels were the size of ostriches, they could even eat a careless polar researcher. But we were lucky that they are small," the report said.
The birds are 34-40 cm long, with a wingspan is from 74 to 84 cm and weight of about half a kilogram.
They live exclusively on land, as they do not have webbed feet, and they love to run. Experts say that externally they are small and weak, but they can fly quite well.
"They overcome the difficult path across the Drake Passage (sometimes, however, hitching a ride on ships)," the experts added.
Ozonometrists showed their "assistants" (photo: facebook.com/AntarcticCenter)