Ukraine's Defense Intelligence assesses possible damage of chemical plant explosion in Crimea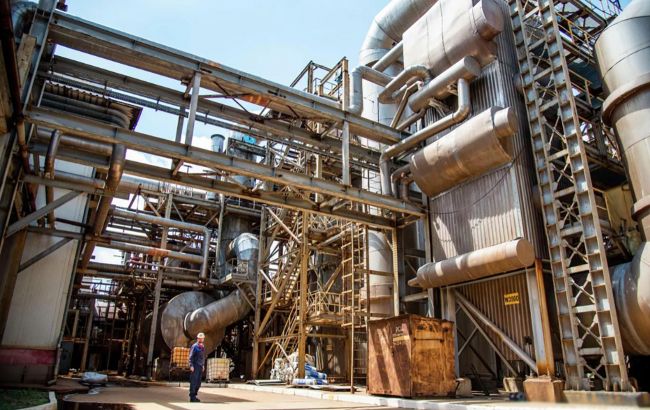 Photo: "Crimean Titan" plant (Russian Media)
The operation failure due to the Kakhovka hydroelectric power plant explosion and subsequent water shortage in the North Crimean Canal is considered critical. Defense Intelligence of Ukraine reports that the Russians believe restoring minimal operational conditions impossible. There is information in Armiansk regarding a possible shutdown of the "Crimean Titan" plant.
"At the same time, engineering units of the Moscow occupation army have been setting mines in the plant's workshops, which are currently operational, and applying explosives on the plant's territory and surrounding areas," the statement says.
According to intelligence sources, the planned terrorist attack at the "Crimean Titan'' chemical plant, prepared by the occupying forces, could result in a dire technological catastrophe.
There are approximately 200 tons of industrial-grade ammonia used in its refrigeration equipment, which poses a significant risk. In the event of an explosion, an ammonia cloud could rapidly destroy nearby areas within half an hour, potentially affecting occupied cities like Armiansk and Krasnoperekopsk, as well as southern districts of the Kherson region.
Defense Intelligence of Ukraine also revealed Russians' plans to evacuate occupation representatives and residents from Armiansk.
'Crimean Titan'
Before the Russian occupation, the "Crimean Titan'' plant was the largest producer of titanium dioxide in Eastern Europe. The facility is located near Armiansk on the Perekop Isthmus, connecting Crimea to mainland Ukraine.
It's worth noting that in August 2018, there was an accident at the plant with the release of hazardous substances. At that time, the Russians temporarily shut down the facility but continued operations in October. Subsequently, Crimea and southern Ukraine residents reported new emissions, but the occupiers ignored calls to shut down the plant.
Crimean partisans reported that the Russians had started mining the "Crimean Titan" plant in late May.
In early June, Oleksandr Prokudin, head of the Kherson Regional Military Administration, suggested that the occupiers might prepare a provocation at the plant to accuse Ukraine. An explosion would release thousands of tons of poisonous substances into the atmosphere and could lead to an environmental catastrophe.