Ukrainian intelligence tests new Ukrainian drone SpyGun at the frontline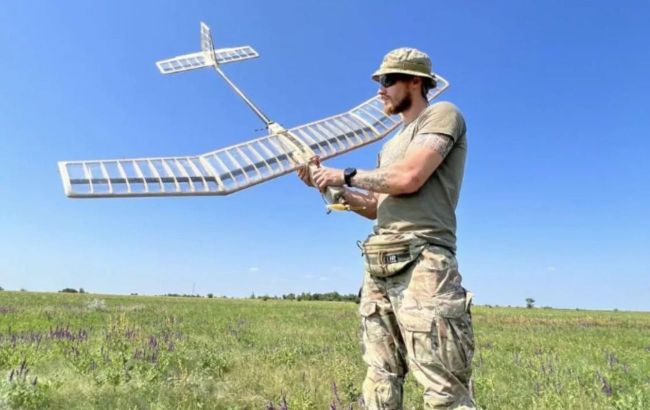 Reconnaissance men test a new Ukrainian drone SpyGun at the front (Photo: gur.gov.ua)
As indicated, the SpyGun drone is designed for deep surveillance but can also be used for fire correction.
The intelligence service reported that the UAV was created by Ukrainian engineers and designers on the initiative of entrepreneur and volunteer Yuriy Holyk, tennis player, and now Armed Forces serviceman Serhiy Stakhovsky.
The system consists of two UAVs and a ground control station. Thanks to the modern radio control system with a high level of protection against electronic countermeasures, the reconnaissance aircraft can operate at distances of up to 50 km.
The SpyGun drone is equipped with an automatic return-to-launch-point system, and its high aerodynamic characteristics allow it to glide along a selected route with the engine off, saving battery power.
Flight time without landing: 120-160 minutes.
Maximum flight altitude: 1500 m.
Operating altitude: 500-600 m.
Speed: 90 km/h.
Cameras: onboard live streaming and GoPro.
Photo and video recording is done on an onboard carrier.
The SpyGun UAV is relatively inexpensive and quick to manufacture with a simple body design, providing "SpyGun" with stealth during its operations in the sky.
Drone production in Ukraine
According to the Minister of Defense of Ukraine, Oleksii Reznikov, over 20 new types of domestically produced drones are already in the arsenal of the Ukrainian Armed Forces. He also revealed a real drone production boom in Ukraine, partly due to the government's successful simplification of procedures for weapon and military equipment developers and manufacturers.
Additionally, the Cabinet of Ministers allocated 40 billion hryvnias this year for investments in Ukrainian drone manufacturers.