Ukrainian Intelligence received 'Mara' aviation reconnaissance system: Effectively works behind enemy lines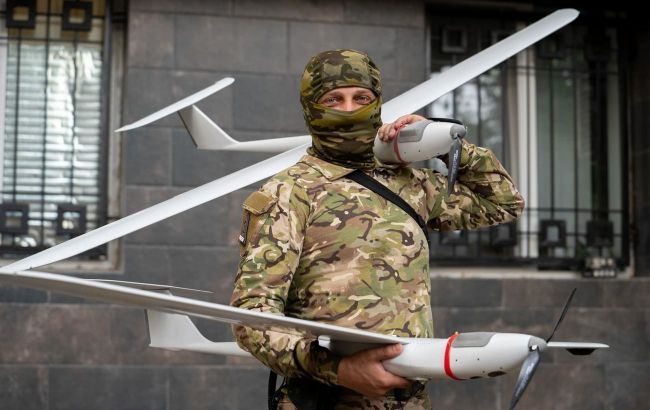 Ukrainian Intelligence received 'Mara' aviation reconnaissance system (Photo: facebook.com/DefenceIntelligenceofUkraine)
The reconnaissance aviators of the Main Intelligence Directorate recently received the "Mara" aviation reconnaissance complex, capable of operating at low altitudes and in gusty wind conditions, according to the Main Intelligence Directorate.
The reconnaissance team received the "Mara" aviation reconnaissance complex from the "Return Alive" foundation.
It consists of:
Six drones: three main ones and three for quick replacement in case of combat losses.
Antennas for flight control.
The total cost of the complex is 2,827,639 hryvnias.
"Mara" is a Ukrainian-made reconnaissance aviation complex. Its drones can operate at low altitudes and in gusty winds of up to 20 meters per second. The total weight of the complex is approximately 20 kg; two drones with a ground control station and an antenna fit into a suitcase.
These dimensions allow "Mara" operators to quickly deploy and have maximum mobility, as the reconnaissance complex does not require additional transportation.
Since "Mara" can stay in the air for up to 90 minutes and has sufficient resistance to enemy electronic warfare, these "aircraft" effectively operate in the enemy's rear.
Drone production in Ukraine
Minister of Defense of Ukraine, Oleksii Reznikov, has reported that there are already more than 20 new types of Ukrainian-made UAVs in the Armed Forces of Ukraine inventory.
He also mentioned that Ukraine is experiencing a genuine boom in drone production because the government has managed to simplify the procedures for developers and manufacturers of weapons and military equipment.
Furthermore, the government allocated 40 billion hryvnias this year for investments in Ukrainian drone manufacturers.